DCSD releases updated COVID data, Information about Mission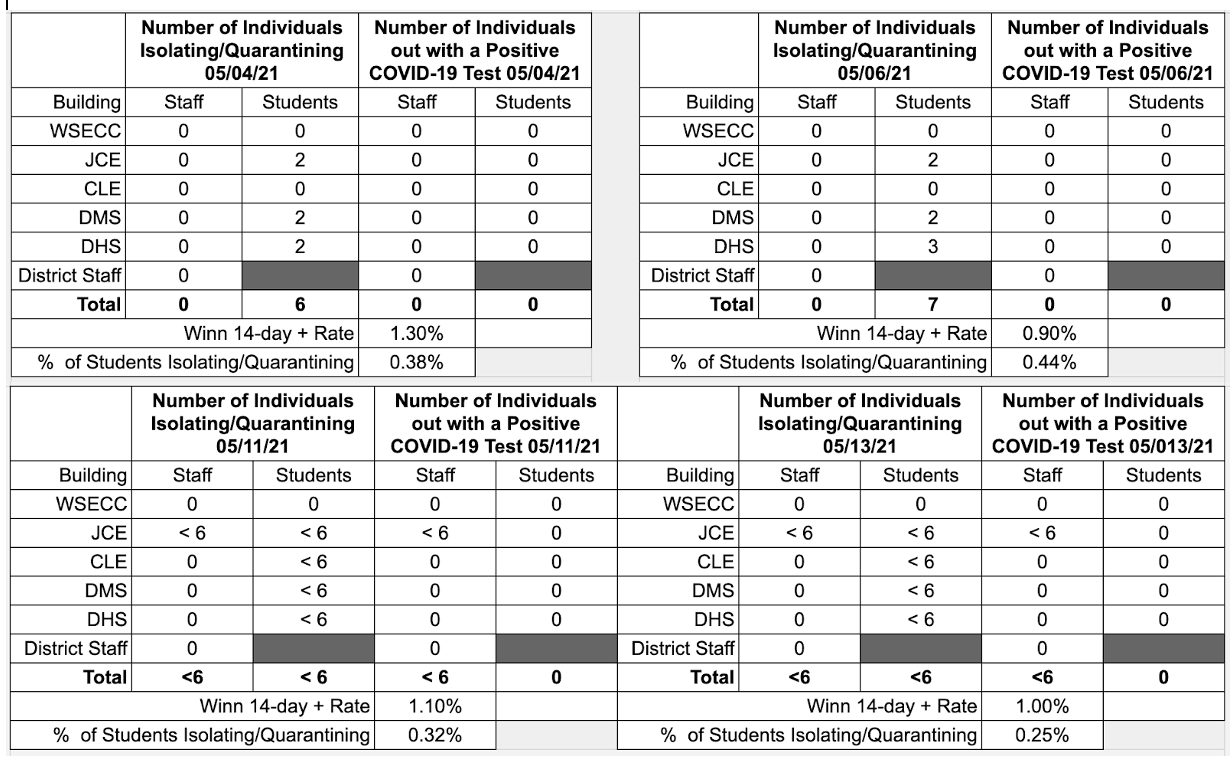 News
May 14, 2021
Decorah Community School District is committed to providing transparent, accurate data regarding cases of isolation and/or quarantining related to COVID-19 while maintaining the confidentiality of students and staff. On September 18, the Iowa Department of Public Health and Iowa Department of Education released guidance to school districts and local public health agencies detailing communication of COVID-19 related data.
The Iowa Department of Public Health guidance can be found here.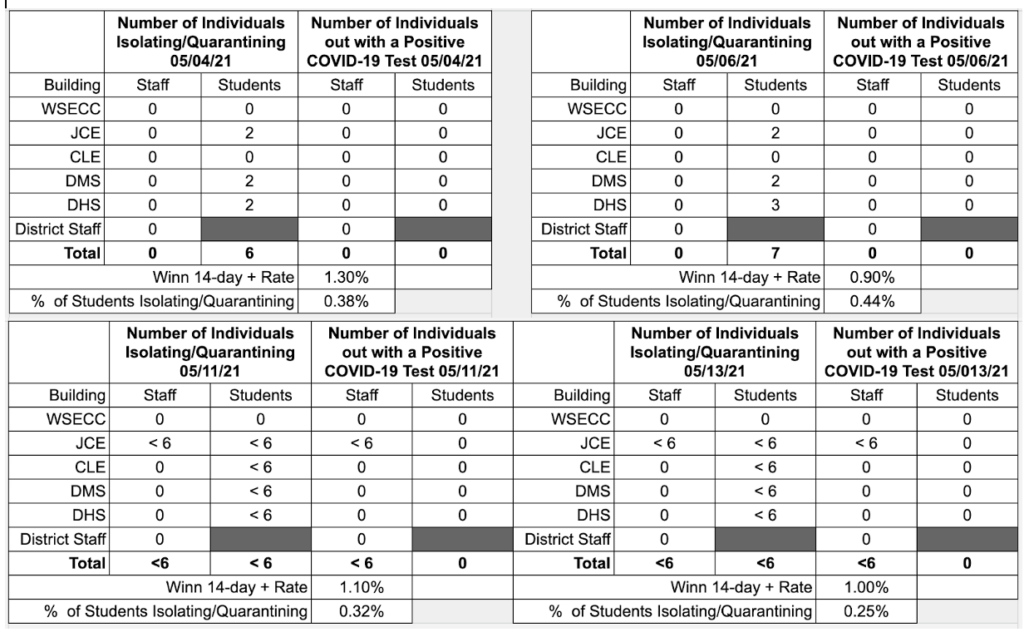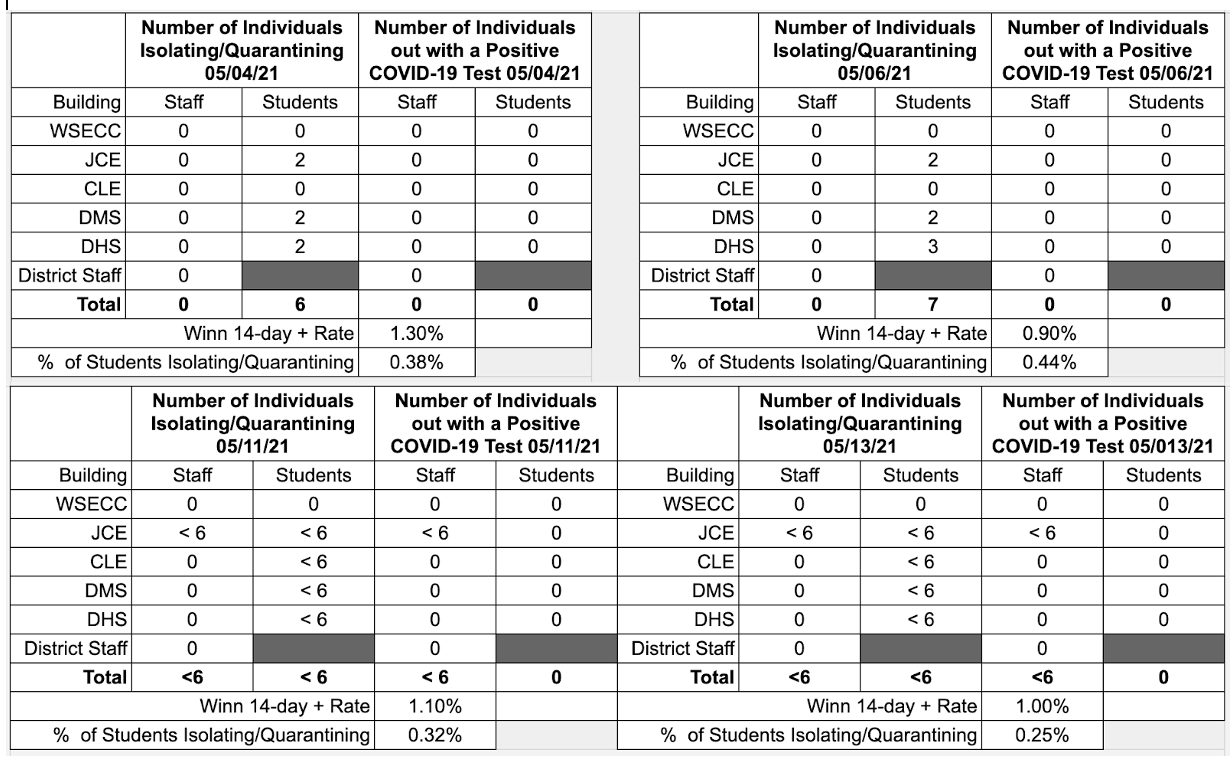 Summary Positive COVID-19
Of approximately 290 Staff – Thirty-two (32) positive COVID-19, Thirty-one (31) recovered
Of approximately 1575 On-site students – One hundred-twenty-two (122) positive COVID-19, One hundred-twenty-two (122) recovered
County and District Trend Data
The graphs below reflect county and district data taken each Tuesday and Thursday since school began.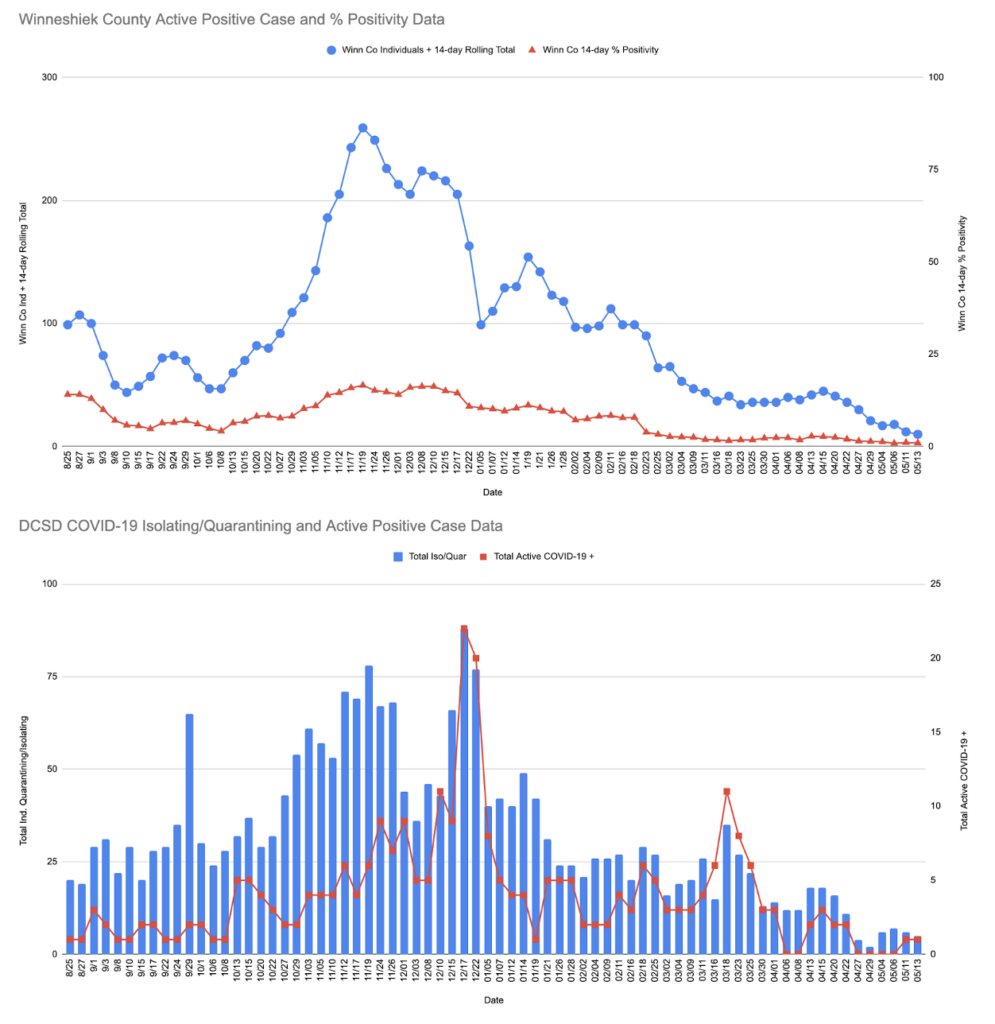 In his letter to families, Superintendent Mark Lane provided information about the District's guiding statement. "Last May, we finalized a new mission statement, vision statement, and district values. This was the culmination of several months of work, and these new guiding statements were approved by our board at the June 2020 meeting. Soon after approval, we started working on our Return to Learn plan. We used our new mission, vision, and values as the foundation of our plans and worked to ensure our decisions aligned to our stated purpose and values."
"As we navigate the final days of the 2020-2021 school year, I am reflecting on our work and our mission, vision, and values. I am pleased to say I have seen these words in action every single day of this unique year. I hope each of you will take the time to review our mission, vision, and values and consider when you have seen these statements in action. If you have a chance, I hope you will let people know how you saw them living our shared purpose and values."
MISSION: Learning – Thriving – Creating Our Legacy
At Decorah Community School District we embrace student learning and well-being as our fundamental purpose; we will, in partnership with our students, families, and community, make the world a better place.
VISION: Decorah Community School District will be a collaborative, innovative, learning-centered organization empowering students to embrace their personal strengths and create their future.
VALUES: Decorah Community School District is guided by the following core values:
Collaboration and Community

We believe collaboration and community partnerships promote innovation and shared responsibility.

Curiosity and Creativity

We believe curiosity and creativity lead to meaningful learning.

Engagement and Excellence

We believe engagement and excellence foster personal ownership, and pride and joy in work and learning.

Equity and Well-being

We believe equity and well-being ensure a safe learning environment, a sense of belonging, and student success.

Integrity and Humility

We believe integrity and humility create respectful, trusting relationships.

Stewardship and Sustainability

We believe stewardship and sustainability promote efficient and effective operations now and in the future.
Lane also shared the following: "We have reviewed the new Centers for Disease Control (CDC) guidance released yesterday and have been in communication with Winneshiek County Public Health. Please be aware that local public health agencies and school districts received notice of updated guidance at the same time as the public."
"Additionally, just this afternoon, the Iowa Department of Education released new information to schools. We will take time to review the guidance and consider implications for our settings, and then share information with our students, staff, families, and community."
"No changes in current expectations and practice are being made today. We will continue to expect individuals to follow the same expectations and guidance outlined in our Return to Learn Plan. We will share more information as soon as possible after digesting the new information released in the last two days."
"I encourage everyone to take some time to digest the most recent guidance from the CDC."
CDC Summary of Recent Changes (May 13, 2021)
CDC Choosing Safer Activities (May 13, 2021)