DCSD Board of Directors Approves Learning Model Plan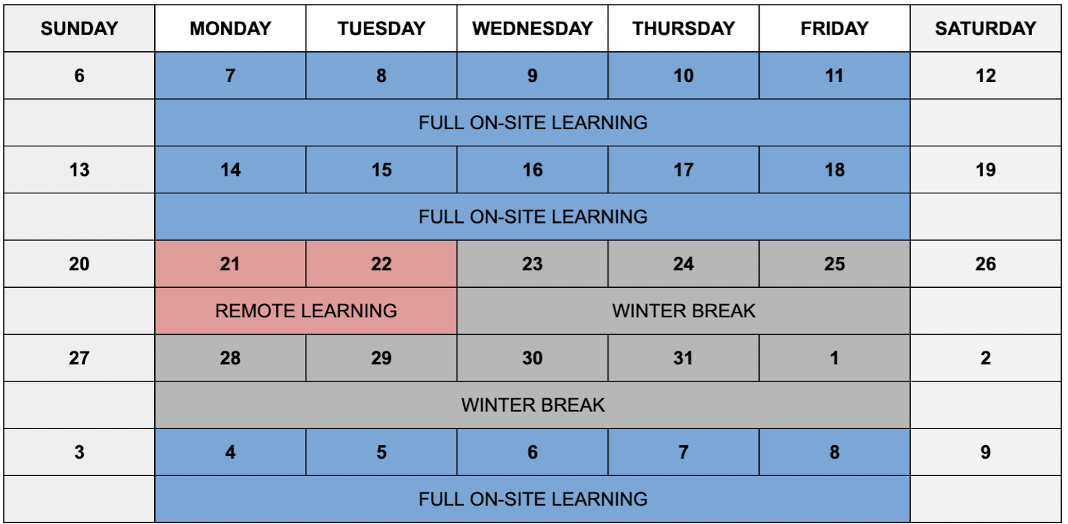 News
November 23, 2020
Tonight, the DCSD Board of Directors approved the learning model plan reflected in the calendar below.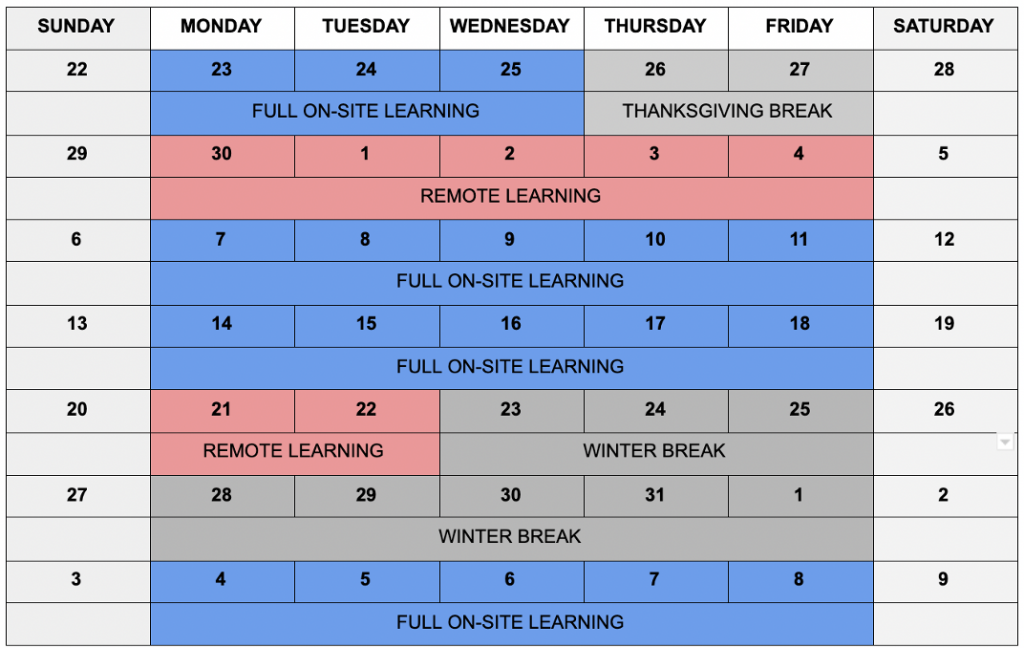 Students will continue with full on-site learning Tuesday, November 24 and Wednesday, November 25.
Decorah CSD will be closed for Thanksgiving Break November 26 and 27.
Students will engage in remote online learning the week of November 30 through December 4.
Students will engage in full on-site learning the weeks of December 7 through December 11 and December 14 through December 18.
Students will engage in remote online learning Monday, December 21 and Tuesday, December 22.
Decorah CSD will be closed for Winter Break December 23, 2020 through January 1, 2020.
Students will engage in full on-site learning the week of January 4 through January 8, 2021.
Certain extracurricular activities will continue during the two remote learning periods. Students and families will receive specific information from activities directors, coaches, and sponsors.
"There are a number of reasons I believe transitioning to this model is the right thing for us to do over the next seven weeks," Superintendent Mark Lane shared. "Since the pandemic began, we have found success in a planful, proactive approach. We continue to see our state, county, and district data trending in the wrong direction. It appears local active case counts and 14-day positivity rates will continue to climb. I don't want to wait and then need to cancel school, or only be able to give families 24-hours notice before the transition to remote learning."
As these numbers have increased, the District has watched the number of students and staff needing to quarantine or isolate increase. Last Thursday and Friday it had the most staff out for quarantine or isolation at any point this school year. The number of quarantining/isolating staff absenteeism combined with the general staff absenteeism leads to challenges to ensure full coverage of daily staffing needs. A week of remote learning will enable quarantining staff to teach remotely, and hopefully will allow for the number of staff requiring quarantining to settle back to a more manageable level.
Lane noted, "If we wait and fall into a reactive position, it is more likely we would need to submit a waiver request to the Iowa Department of Education to move to remote learning for two weeks. If that occurred, we would also be required to suspend all athletic and extracurricular activities for the period in which we are in remote learning. A one-week period of remote learning does not require approval from the state, and we are not required to suspend all athletic and extracurricular activities. Our students will be able to continue extracurricular engagement during our remote learning week. If we have a contest or concert scheduled, we will be able to have the event under the spectator limits and mitigation practices dictated by the governor's proclamation."
"Our students have worked incredibly hard to give themselves a chance to have normal school and extracurricular activities. I want to do what we can to be in the best position possible to continue to give them these opportunities."
The District's nutrition services and transportation departments will remain operational during remote learning and will package and deliver shelf-stable meals to any district resident families interested. An email was sent to parents and guardians which includes a form for ordering meals to be delivered.
As described in the DCSD Return to Learn Summary, the Canvas Learning Management System will be the primary delivery platform during remote learning.
Lane concluded in his letter to families, "Thank you for your support of Decorah Schools, and thank you for taking steps to protect the health and safety of your family and those around you."