DCSD Releases Updated COVID Data, Encourages Advocating for Education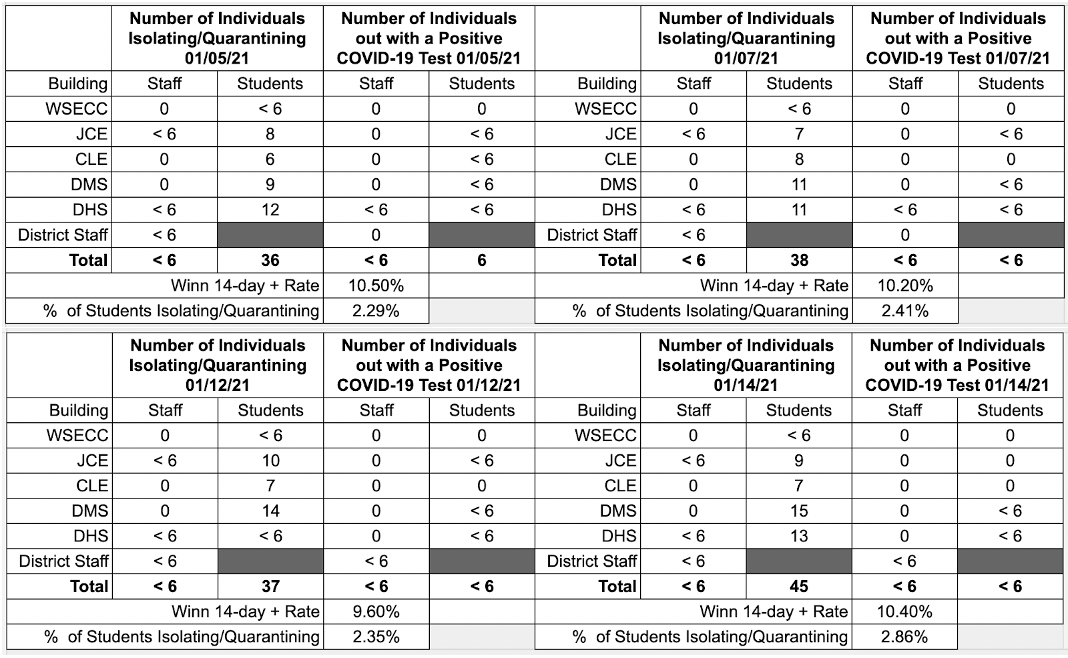 News
January 15, 2021
Decorah Community School District is committed to providing transparent, accurate data regarding cases of isolation and/or quarantining related to COVID-19 while maintaining the confidentiality of students and staff. On September 18, the Iowa Department of Public Health and Iowa Department of Education released guidance to school districts and local public health agencies detailing communication of COVID-19 related data.
The Iowa Department of Public Health guidance can be found here.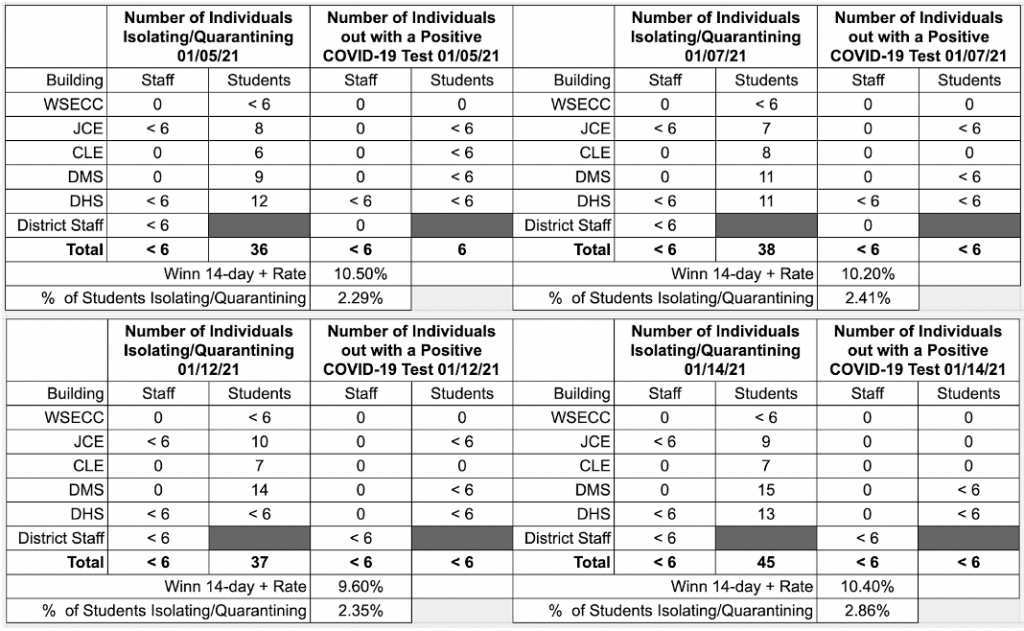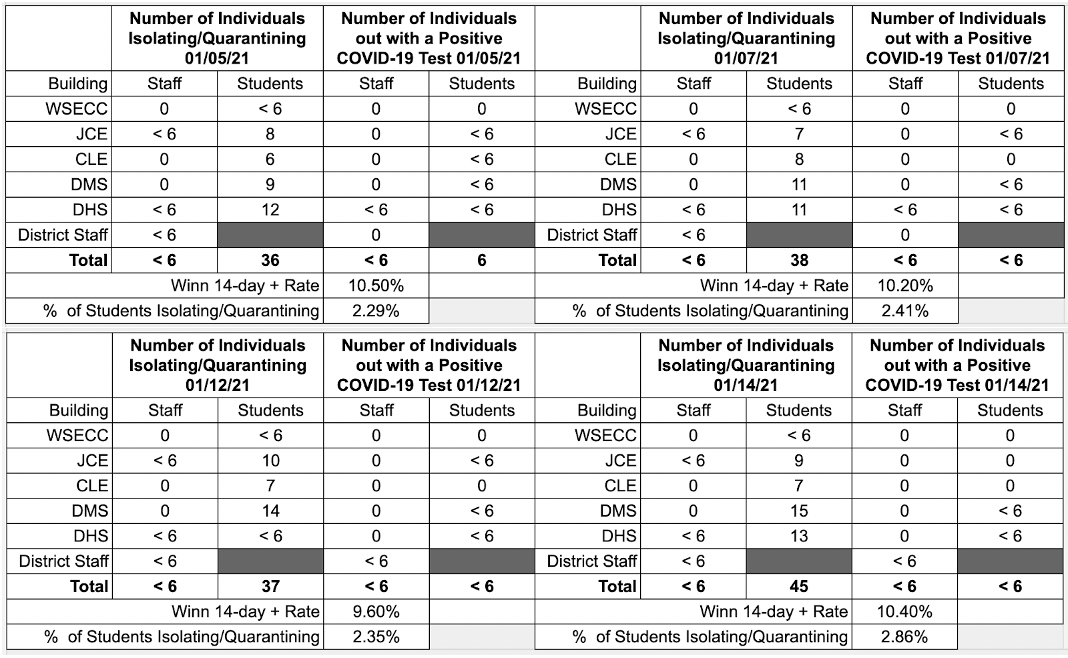 Summary Positive COVID-19
Of approximately 290 Staff – Twenty-four (24) positive COVID-19, Twenty-three (23) recovered
Of approximately 1575 On-site students – Eighty (80) positive COVID-19, Seventy-Seven (77) recovered
County and District Trend Data
The graphs below reflect county and district data taken each Tuesday and Thursday since school began.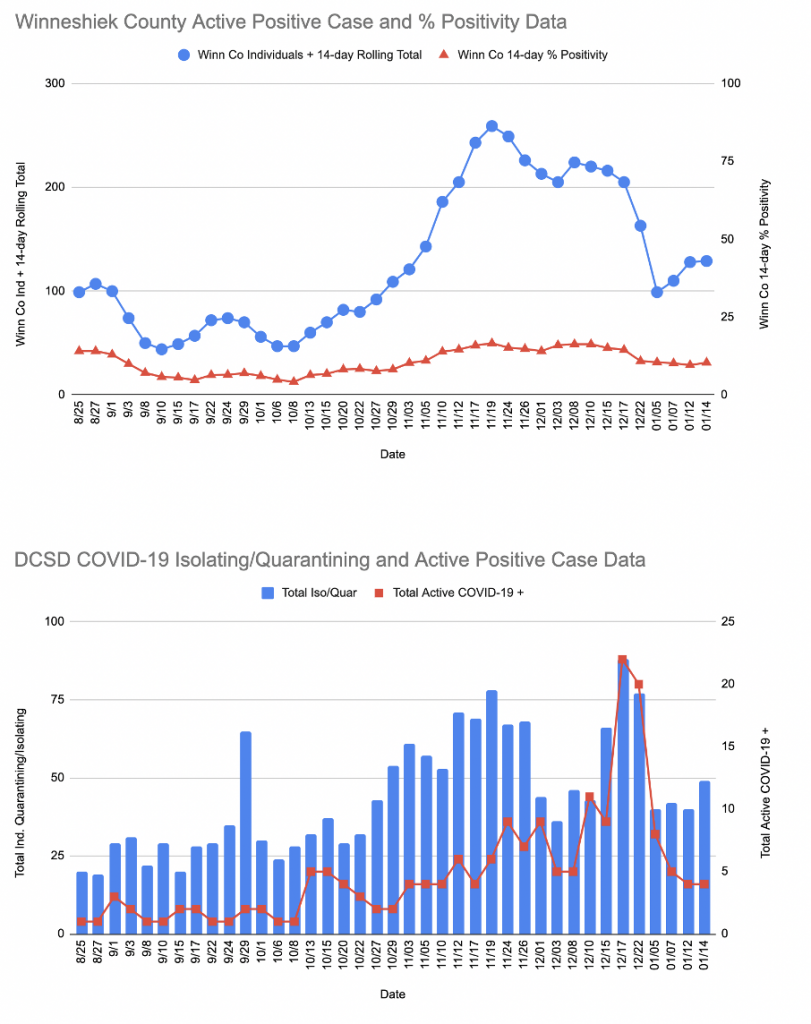 Emergency Closure Remote Learning
In June of 2020, the Iowa Legislature passed Senate File 2310. Part of this legislation made it possible for Iowa schools to use remote learning for instructional time during emergency closure days. The Decorah Community School District Board of Directors discussed this possibility at several meetings this fall and approved the use of remote learning on emergency closure days Monday, December 14, 2020.
In the approved plan, the District will begin to implement the remote learning plan on the third emergency closure day of the school year. This means the first two emergency closure days will be handled exactly as they have in past years. No remote learning will be provided, and the days will not be made up at the end of the school year. The third and subsequent closure will be remote learning days. The DCSD Emergency Closure Remote Learning Day Plan outlines the schedule and logistics of a remote learning day.
Advocating for Education
Earlier this week, the 2021 General Session of the Iowa Legislature began. On Tuesday, Governor Reynolds gave the Condition of the State address. A recording of the Condition of the State address is located here.
In a message to parents, Superintendent Mark Lane said, "I believe one of the roles of a superintendent is to be an advocate and lobbyist for the interests of Iowa public schools, especially the district and region we serve. I work closely with my partners at Keystone AEA and Rural School Advocates of Iowa to inform our elected officials of our challenges and needs. I also believe your voices are more powerful than mine. When citizens speak up for their schools, those in seats of power listen. I encourage you to visit the website of a grassroots, parent-led organization, Parents for Great Iowa Schools. You can also find them on Facebook and Twitter."
He continued, "Our public schools need your support, your voice, and your advocacy. As the General Session continues, I will share my perspective on issues important to the Decorah Community School District. I encourage you to let those who represent us know your thoughts on the issues that matter to you."