DCSD Releases Updated COVID Data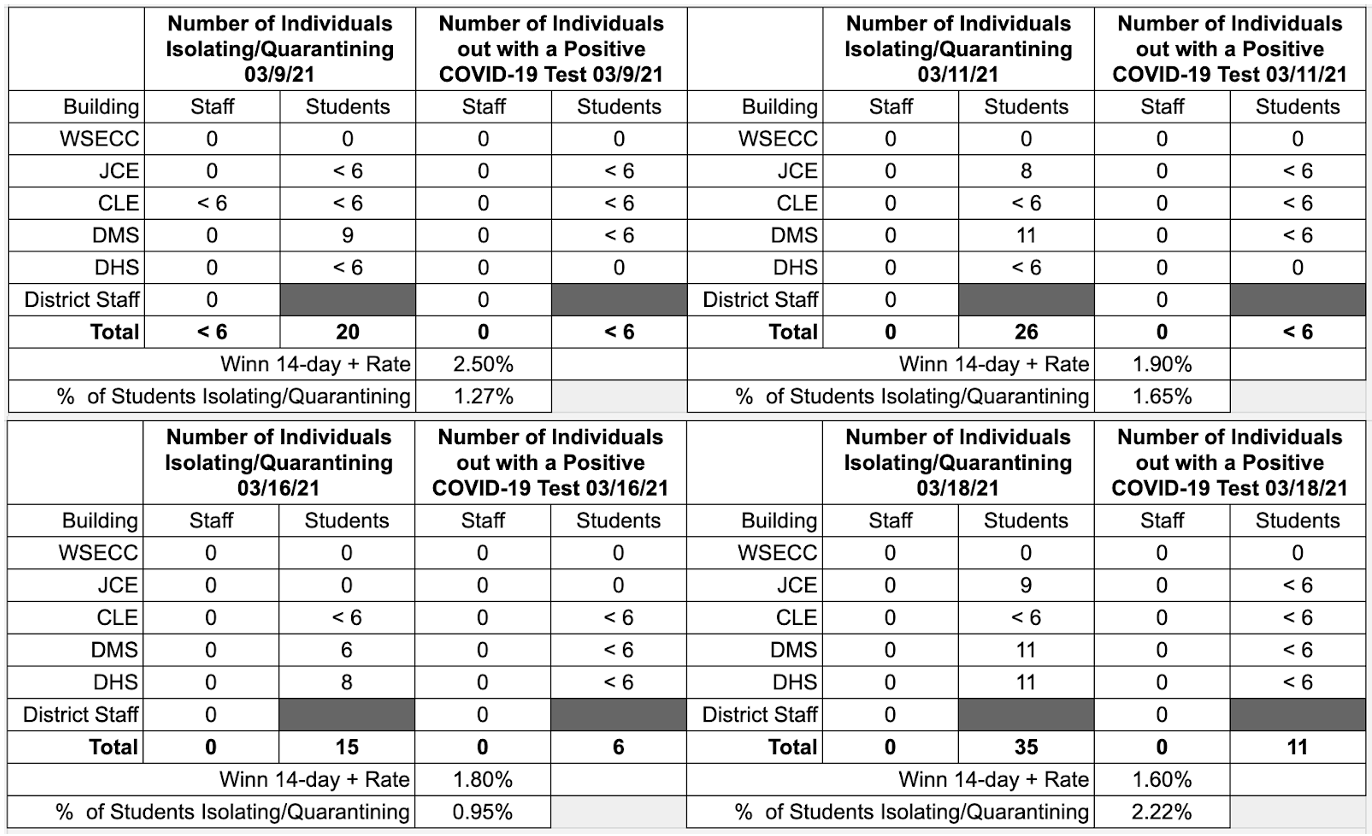 News
March 19, 2021
Decorah Community School District is committed to providing transparent, accurate data regarding cases of isolation and/or quarantining related to COVID-19 while maintaining the confidentiality of students and staff. On September 18, the Iowa Department of Public Health and Iowa Department of Education released guidance to school districts and local public health agencies detailing communication of COVID-19 related data.
The Iowa Department of Public Health guidance can be found here.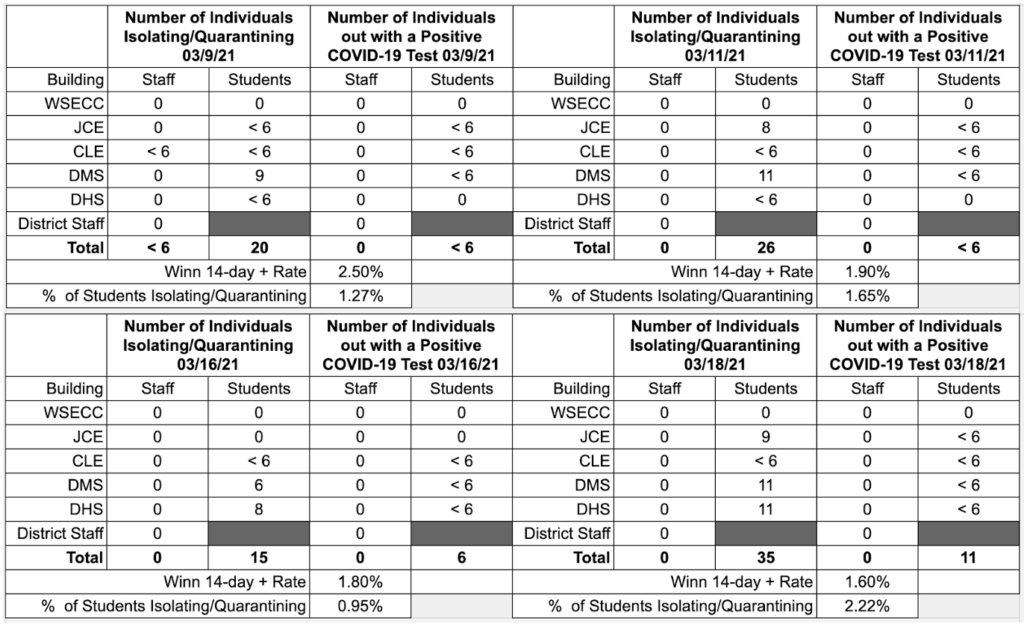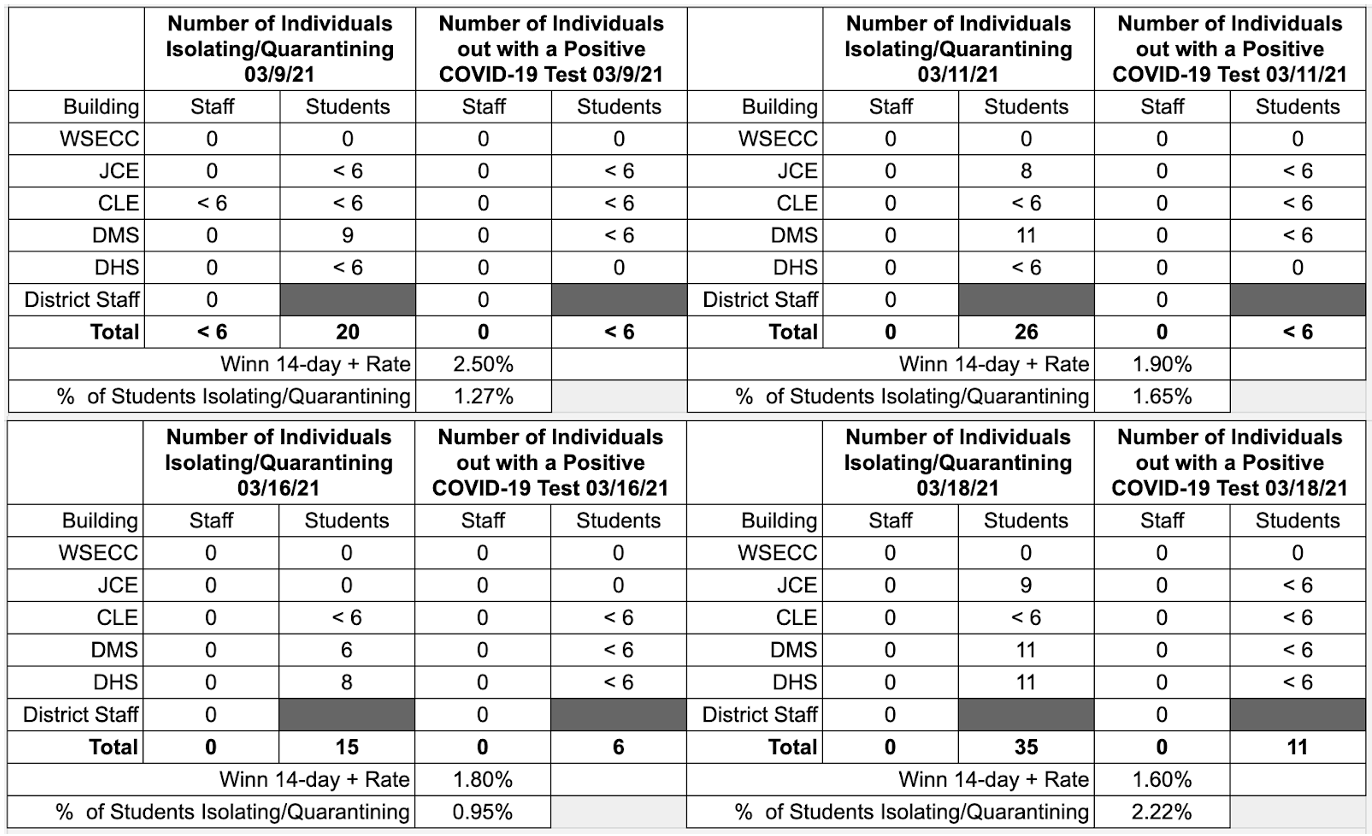 Summary Positive COVID-19
Of approximately 290 Staff – Thirty-one (31) positive COVID-19, Thirty-one (31) recovered
Of approximately 1575 On-site students – One hundred-thirteen (113) positive COVID-19, One hundred-two (102) recovered
County and District Trend Data
The graphs below reflect county and district data taken each Tuesday and Thursday since school began.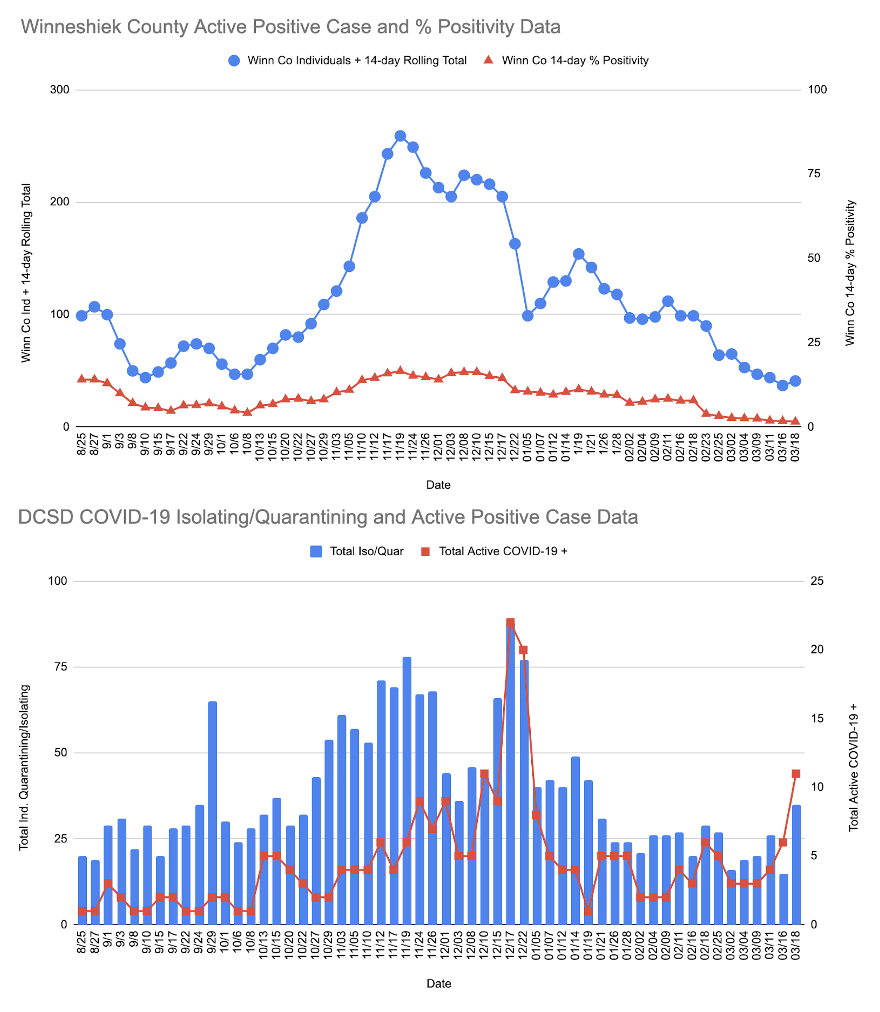 In his weekly message to families, Superintendent Mark Lane shared concerns about the increase of positive cases of the COVID-19 virus: "This week we experienced an increase in the number of individuals required to quarantine and isolate. Yesterday [Thursday, March 18] was the first day since before winter break we have had more than ten individuals isolating due to a positive COVID-19 test result. This is a reminder that the COVID-19 virus is still present in our community, reinforcing why we continue to implement the same mitigation strategies we have had in place all year."
"I encourage our staff, students, and families to continue to practice CDC-recommended strategies in their lives away from school. Wear a face mask, wash your hands frequently, keep your social circles small, and stay home if you are experiencing symptoms. We want our students to enjoy the regular school events that occur during the last quarter of the school year, and diligence to the strategies that have led to success is key."
Lane also shared information about the calendar for the next academic year. The board of directors approved the academic calendar for the 2021-2022 school year. The first day of school will be Monday, August 23, and the academic calendar will flow much as the calendar has in recent years.
It is not yet known if Iowa school districts will have the ability to use remote learning during emergency closure days during the 2021-2022 school year. Iowa schools are able to use remote learning this year because of permission granted through Governor Reynolds' Public Health Emergency Proclamation.
There is currently a study bill at the Iowa Legislature that would extend the current authority to use remote learning on emergency closure days. If this bill is passed and signed by Governor Reynolds, the DCSD board will need to consider the future use of remote learning. If that time comes, feedback from staff, students, and parents will be sought to ensure an informed decision is made.