DCSD Releases Updated COVID Data, Second Vaccination Clinic Details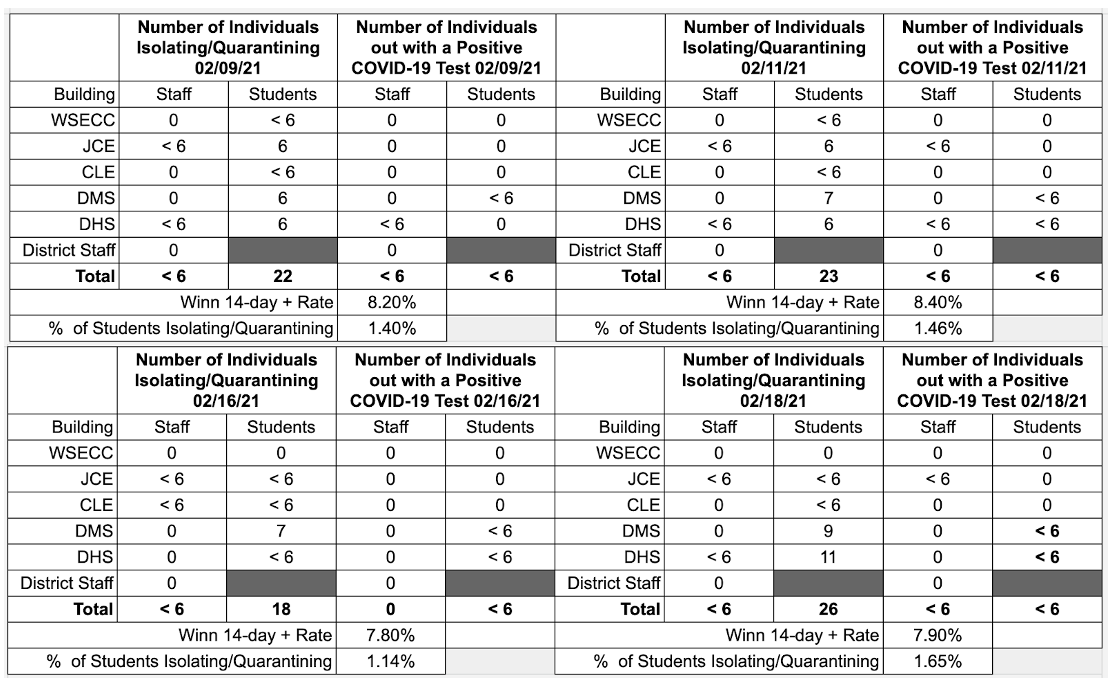 News
February 19, 2021
Friday, March 12 Decorah Community School District, Saint Benedict's School, and Crossroads Academy employees and active substitutes will receive their second dose of COVID-19 vaccination. In order to facilitate the efficient distribution of vaccines, Superintendent Mark Lane has recommended to the board of directors that the professional development day currently scheduled for Monday, March 1 be rescheduled to Friday, March 12.
Parents and guardians have been notified of the plans for students to now attend school for a regular school day Monday, March 1, and for Friday, March 12 to be the rescheduled teacher in-service day. There will be no remote learning Friday, March 12; staff will be engaged in professional development and will receive their second dose of the COVID-19 vaccine.
The school board is scheduled to meet Tuesday, February 23 at 5:00 pm to discuss and take action on this recommendation.
Decorah Community School District is committed to providing transparent, accurate data regarding cases of isolation and/or quarantining related to COVID-19 while maintaining the confidentiality of students and staff. On September 18, the Iowa Department of Public Health and Iowa Department of Education released guidance to school districts and local public health agencies detailing communication of COVID-19 related data.
The Iowa Department of Public Health guidance can be found here.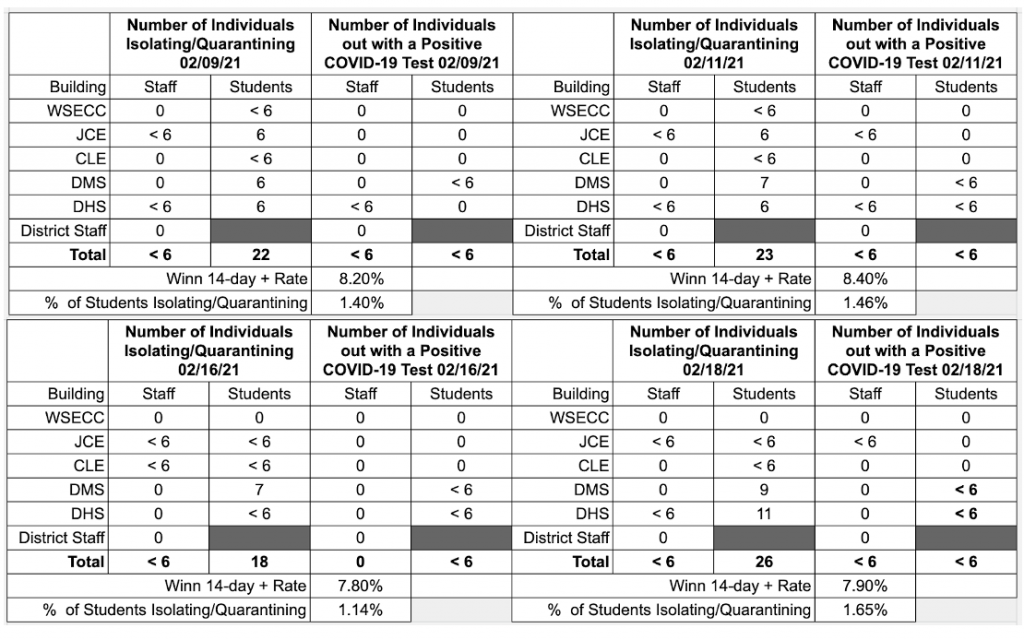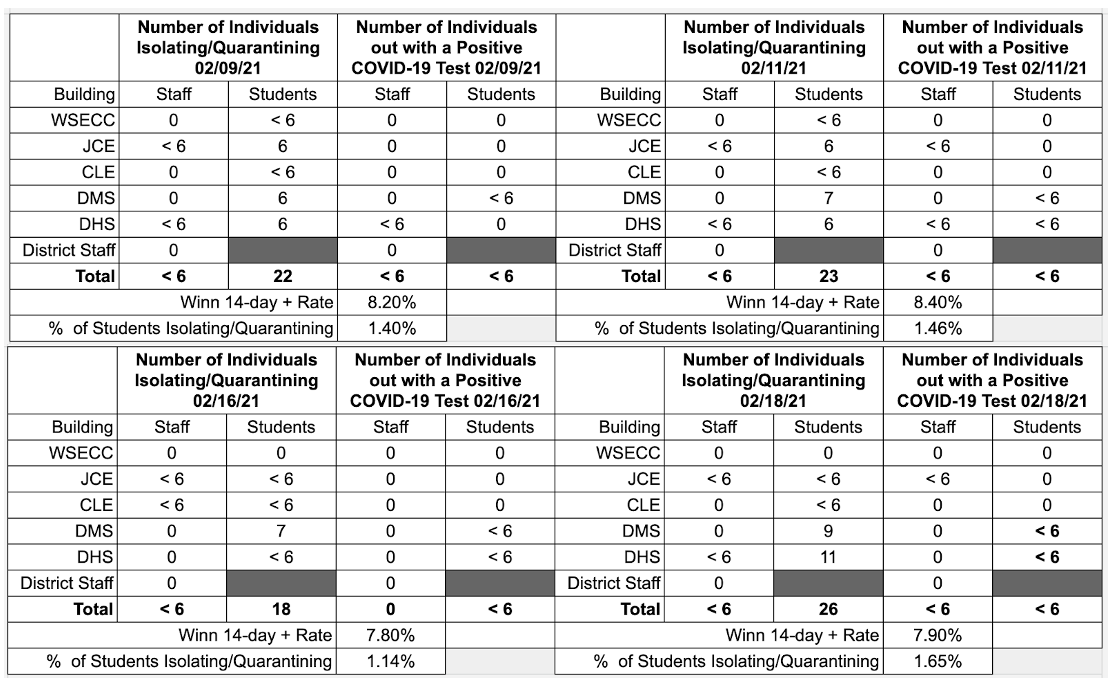 Summary Positive COVID-19
Of approximately 290 Staff – Thirty (30) positive COVID-19, Twenty-nine (29) recovered
Of approximately 1575 On-site students – Ninety-seven (97) positive COVID-19, Ninety-two (92) recovered
County and District Trend Data
The graphs below reflect county and district data taken each Tuesday and Thursday since school began.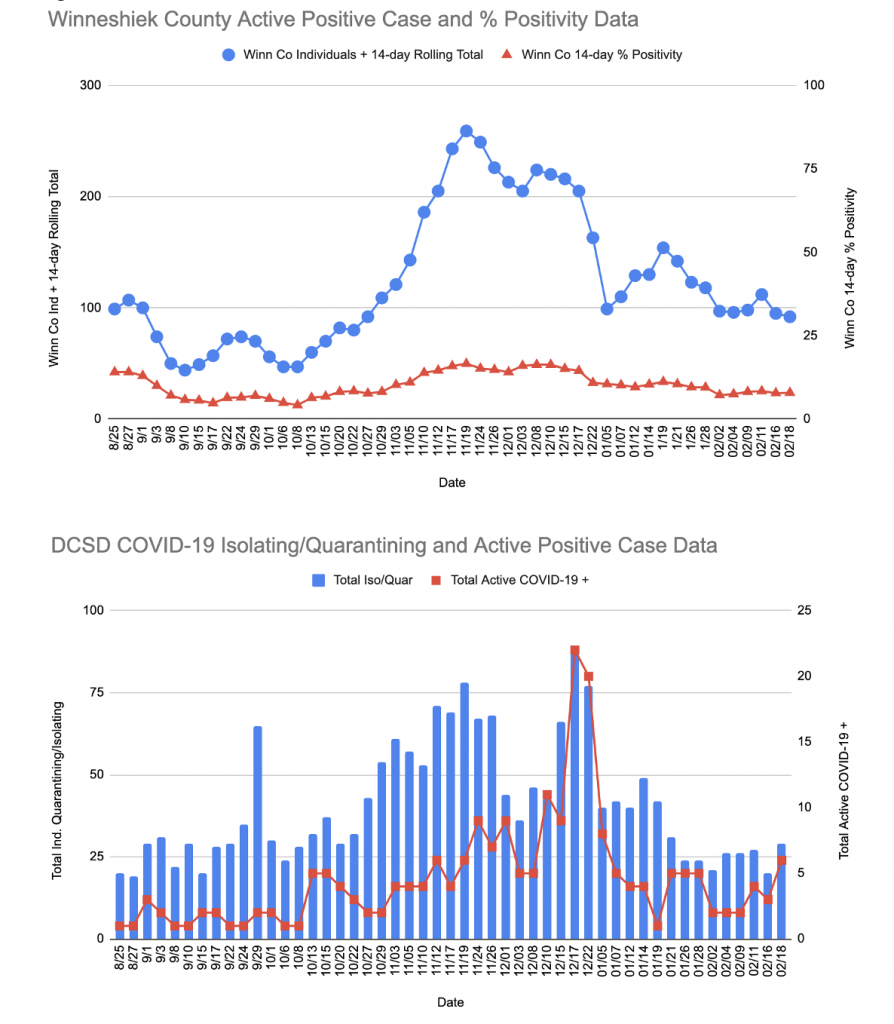 In a message to families, Lane shared the following: "March 13, 2020, was our last day of school last year before Governor Reynolds announced the emergency closure of Iowa schools. March 12, 2021, will now be the date that every Decorah CSD, St. Ben's, and Crossroads Academy employee and active substitute wishing to receive a COVID-19 vaccination will be fully vaccinated. I am thankful for the collaboration, sacrifice, selflessness, and perseverance that has occurred on a daily basis to get through the past year."
Lane continued, "I had several opportunities to meet with groups of superintendents from across Iowa this week. Based on those conversations, I am confident we will be one of the first few school districts in Iowa to have provided the full COVID-19 vaccine regimen to every employee and active substitute who wanted it. Thank you to our partners–Winneshiek County Public Health, Saint Benedict's School, and Crossroads Academy–for working together to create the plan that allowed this to happen. Thank you to our community for your support and agility as we have carried out the vaccination plan."