DCSD to hold paraprofessional job fair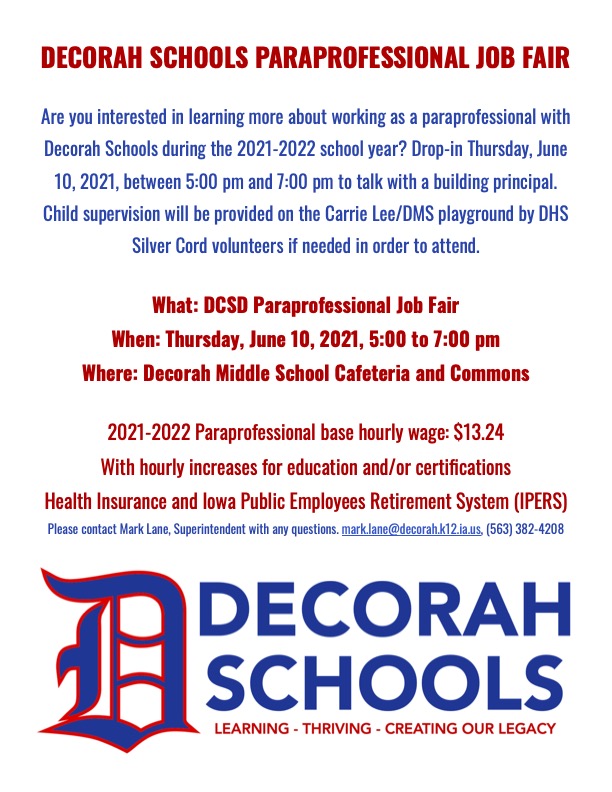 News
May 28, 2021
Decorah Community School District will hold a job fair Thursday, June 10, 2021, from 5:00 pm to 7:00 pm in the Decorah Middle School cafeteria for individuals interested in serving as a paraprofessional during the 2021-2022 school year. Paraprofessionals serve as members of the Special Education team at each Decorah school. Anyone interested in learning more about the role or interviewing for a position is encouraged to attend the job fair. 
The starting hourly wage for a paraprofessional is $13.24 cents, with incentive pay for educational attainment or certain certifications. Paraprofessionals receive health benefits and participate in the Iowa Public Employees' Retirement System (IPERS).
"Working as a paraprofessional is a great way to align your work schedule to your child's school schedule while also providing essential services to our students," said Superintendent Mark Lane.
DHS Silver Cord volunteers will provide child supervision on the Carrie Lee Elementary playground for those who need such supervision while attending the job fair.
Superintendent Lane said, "We encourage people to join us to learn more about the role or to interview for a current vacancy."