DCSD Releases COVID Data and Guidance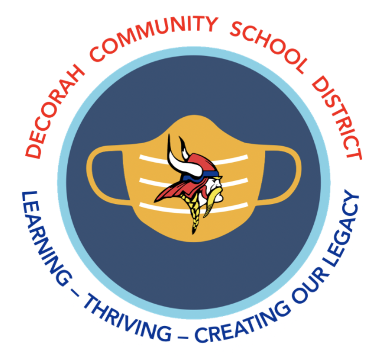 News
September 3, 2021
District COVID-19 Active Positive Cases
Total number of students and staff in isolation (currently positive) for COVID-19: less than six (6)
Current district facilities with known positive cases: Decorah High School
DCSD reports COVID-19 data in alignment with the direction of the Iowa Department of Public Health. The full guidance can be found at the link below.
IDPH Information Sharing Guidance for Schools and Local Public Health
In accordance with current Centers for Disease Control and Prevention and American Academy of Pediatrics recommendations for K-12 schools, Decorah Community School District encourages proper mask wearing for all staff, students, and the public while in district facilities.
Current Guidance for Iowa Schools
Mark Lane, Superintendent, shared in a letter to families, "Over the first ten days of school, we have received questions about our approach and processes related to COVID-19 compared to last school year. Iowa schools work under the guidance and direction of the Iowa Department of Education and the Iowa Department of Public Health."
The following documents include the direction and guidance the District has received. Questions about isolation and quarantining during the 2021-2022 school year can be found by reviewing these documents to understand the direction given to Iowa schools.
DCSD school nurses will use this guidance as they work with students and families during the 2021-2022 school year.
Homecoming Gear Available from Viking Corner
The DHS student-run Viking Corner is selling 2021 Homecoming apparel. Orders can placed using the link below.