Decorah CSD Board of Education Names Dr. Tim Cronin Next Superintendent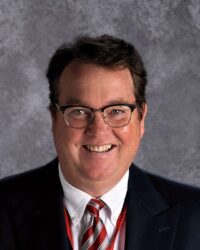 News

DECORAH, IA — The Decorah Community School District Board of Education has named Dr. Tim Cronin as the district's next superintendent.
Since 2013, Dr. Cronin has served as superintendent of the Central City CSD, which has had a "shared superintendent" arrangement with nearby Dunkerton CSD for the past two years. There, he has gained key experience and skills related to school finance, human resources, and providing professional development opportunities to staff. He developed and supervised a $3.5 million track, transportation, and HVAC construction project, along with a $5 million elementary school addition and a $2 million gym rebuild.
In addition to his role as superintendent, Dr. Cronin has served as curriculum director, elementary principal, director of human resources, and director of special education for Central City CSD.
Dr. Cronin is also an adjunct lecturer at the University of Iowa, where he has worked with the Educational Policy and Leadership Studies and Teaching, Leadership, and Cultural Competency programs to develop and teach graduate-level classes. He has served in leadership roles on committees for the Grant Wood AEA, Central Rivers AEA, and the Superintendent Leadership Team of the Tri-Rivers Conference.
Dr. Cronin holds a Ph.D. in educational administration from the University of Iowa and took part in graduate studies at the University of Wisconsin. He also received a bachelor's degree in elementary education from Luther College.
The Decorah Board of Education has been working with Grundmeyer Leader Services to conduct the search. The process has included a community-wide survey, asking district residents to provide their input on the qualities and characteristics they would like to see in the district's next leader. The board conducted a first round of interviews the week of January 24 and held interviews with the three finalists on February 7.
Dr. Cronin will officially begin leading the Decorah Community School District on July 1, 2022.
Dr. Cronin's welcome message can be found here: https://www.youtube.com/watch?v=MKXbK5tI2XI