DCSD Announces Early Out Tuesday, Bus Mask Requirement Change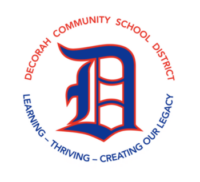 News
Early Dismissal Tuesday, March 8
School will be dismissed at 12:30 pm next Tuesday, March 8 to allow students and staff to attend the boys' quarterfinal round game in the state basketball tournament. The game will be played at Wells Fargo Arena in Des Moines.
Semi-final games are scheduled for the afternoon of Thursday, March 10, and the class 3A championship game will be played at 5:00 pm Friday, March 11.
Superintendent Mark Lane said, "This is our school's first trip to the boys' state basketball tournament in over 40 years. We appreciate the great support our community gives our students, and I hope as many people as possible are able to attend."
Like weather-related closures, early dismissals and/or cancellations related to state tournament participation will impact the student instructional hours for the current school year. Once the tournament is over, the District will share an update on the end-of-year calendar.
CDC Ends Masks on School Buses Requirement
The Centers for Disease Control and Prevention has ended the federal requirement of wearing a mask while on a school bus. With this change, the District will align guidance for buses to their current guidance in district buildings: individuals are encouraged to wear an appropriate mask when physical distancing cannot be consistently maintained. The District appreciate everyone's efforts to keep our students and staff safe and healthy.