Decorah FFA Competes at District Contests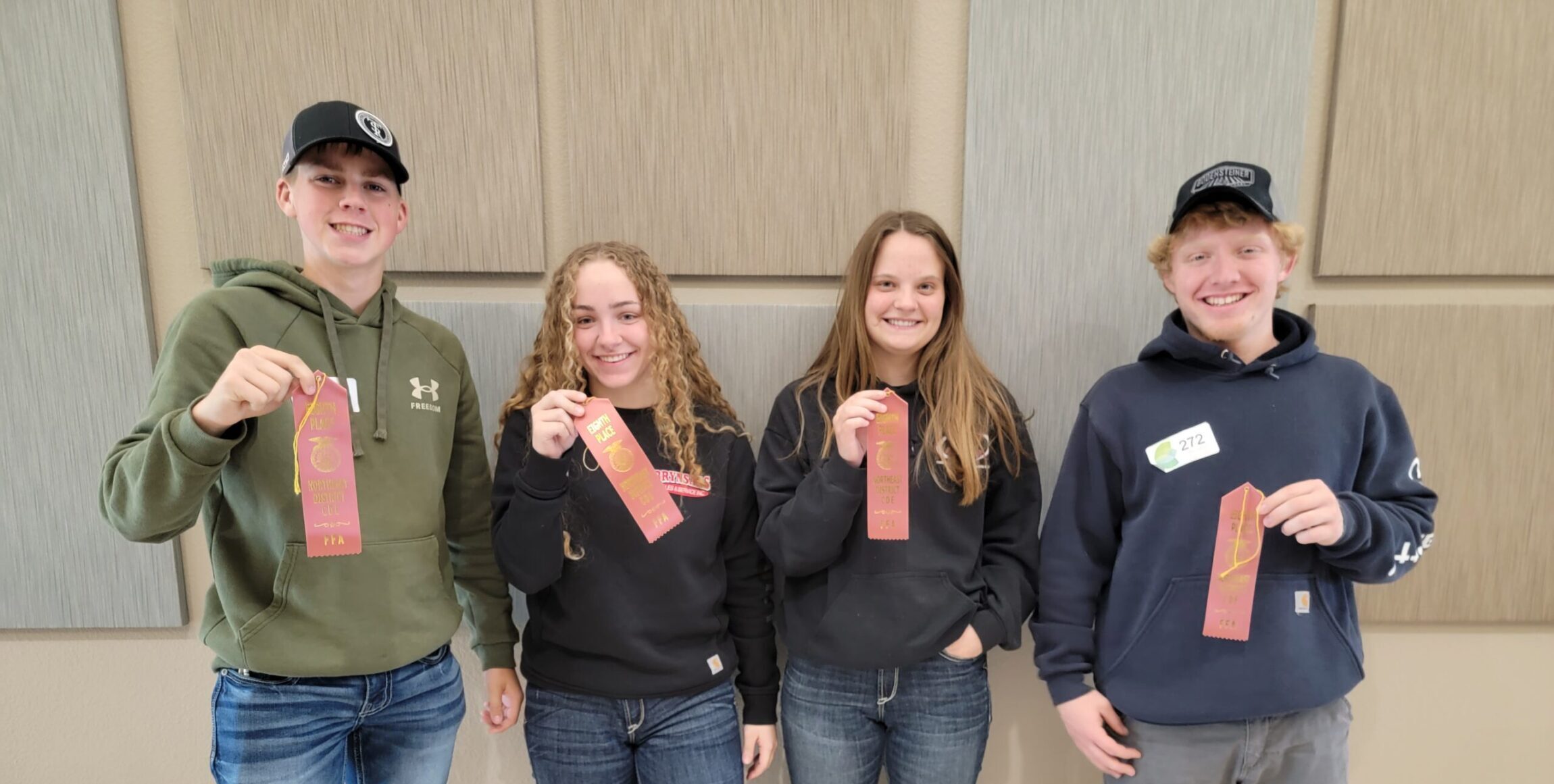 News
Submitted by: Morgan Moen, Decorah FFA Reporter
May 23, 2022
The Decorah FFA sent eleven members to Hawkeye Community College to compete in four district FFA contests. Around 400 FFA members from Northeast Iowa competed in events in agronomy, floriculture, food science, and nursery landscape contests. Decorah FFA members who participated include Brooke Anfinson, Annika Brynsaas, Brody Courtney, Braunwyn Darrington, Rashell Lippe, Morgan Moen, Creed Monroe, Chezny Ryant, Hannah Schnitzler, Addison Wemark, and Mara Wyatt.
The team of Brynsaas, Courtney, Monroe, and Wyatt competed in the FFA agronomy contest. The students evaluated various crop production aspects, including hay quality, silage samples, seed quality, corn and soybean marketing, and identification of seed, plant, and insects. The students also took a fifty-question multiple-choice exam covering agronomic practices. The Decorah FFA team placed 8th out of 30 teams.
The team of Anfinson and Darrington represented Decorah FFA in the nursery landscape contest. Students took a general knowledge exam, identified landscape plants, completed a landscape estimation problem, and discussed the proper safety and operation of a zero-turn lawn mower and chainsaw. Anfinson placed 8th individually in this contest. A total of 18 teams competed in this contest.
Forty-three teams competed in this year's district floriculture contests. The team of Ryant, Schnitzler, and Wemark represented the Decorah FFA chapter in this contest. Team members made a corsage, identified plants and flowers, answered production and management questions, completed problem solving questions, and took a general knowledge exam.
The team of Lippe and Moen competed in the food science contest. Members in this contest completed two sensory evaluations that include identifying various aromas and completing a triangle test to see the differences in products. Members also completed a general knowledge exam and took part in three practicums involving problem solving, food safety and quality, and customer inquiry. Twenty-four teams competed in this year's district food science contest.