DHS Earns Top Honors for 'Tarzan, The Stage Musical'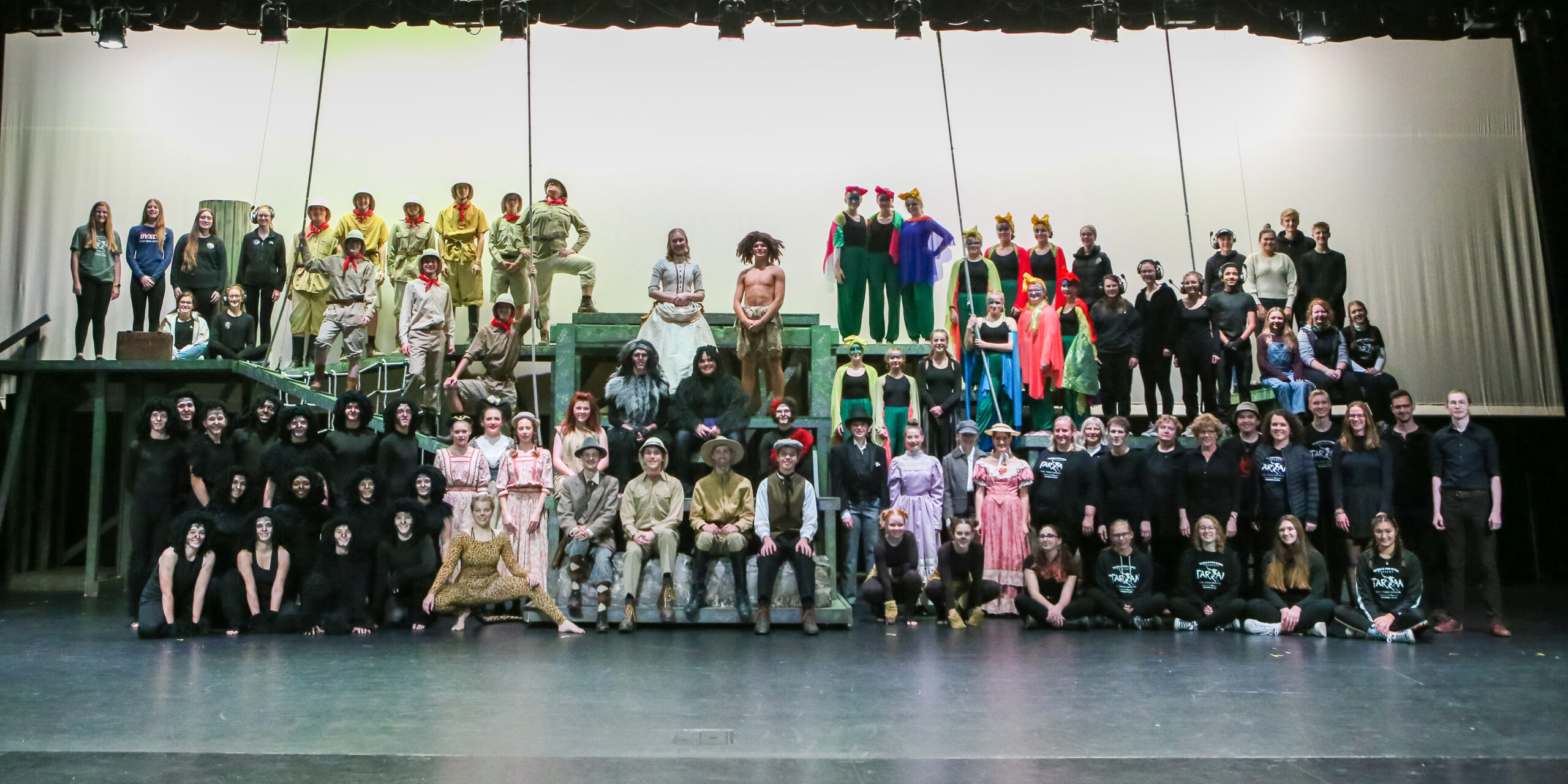 News
May 11, 2022
Decorah High School's Fall 2021 production of "Tarzan, The Stage Musical" received Outstanding Musical Production and Outstanding Ensemble honors from the Iowa High School Musical Theater Awards (IHSMTA). A group of cast members will perform an excerpt from the show at the 2022 IHSMTA Showcase on Saturday, June 18 at the Des Moines Civic Center. The Awards Showcase will be live streamed at IowaPBS.org.
"Being selected among the top high school musicals in the state is a tremendous honor for our cast, crew, orchestra, and director team, and we are extremely proud," said Karen Trewin, producer/choreographer/co-director.
Cast members Dylan Muhlbauer (Tarzan), Sally Laybourn (Kala), and Libby Phillips (Terk) were each recognized for Outstanding Performance in a Principal Role. This qualifies them for the IHSMTA's "Triple Threat" Award, which recognizes outstanding work in singing, acting, and dancing. During the showcase they will receive individual coaching on a solo, work with a New York City-based choreographer and music director, and collaborate with other high achieving students from other schools. They will also audition to represent Iowa at the National High School Musical Theater Awards in June in New York City and audition to receive a full-tuition scholarship to attend a weeklong summer Broadway Intensive Camp in Des Moines in July.
Also receiving honors was Jensen Korsness (Leopard) for Outstanding Featured Dancer. Ella Grouws (Young Tarzan) received Special Recognition for Performance in a Principal Role.
"Our cast, crew, and musicians worked hard and came together as a company to offer what we felt was a great experience for our audiences," remarked Jason Rausch, music director/conductor. "We attended the showcase four years ago and were really impressed with the IHSMTA. We're looking forward to working together again and seeing our students' efforts recognized in Des Moines."
The production staff for "Tarzan" also includes Chris Hadley, technical director; Anya Lovstuen, stage manager; Mark Potvin, set designer/fly captain; and Kristen Underwood, co-director/costume designer. Sponsoring the fly system installed for the show were Decorah Bank & Trust, Decorah Music Boosters, The Depot Outlet, and Hacker Nelson & Co.
Decorah High School has participated in the annual adjudicated program since 2017 and was recognized for its productions of "Shrek" in 2017-18 and "Tuck Everlasting" in 2019-20. The showcase was canceled in 2020.
Decorah High School produces fall musicals every two years with a student variety show offered during alternate years.