DHS Envirothon Teams Perform Well at State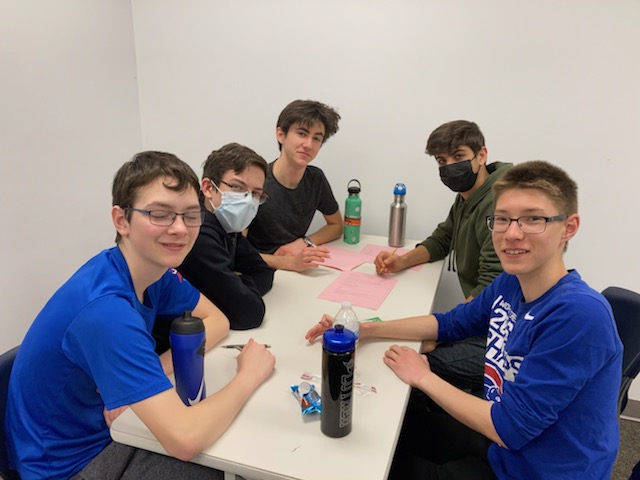 News
May 19, 2022
Recently, Decorah set a new mark for the highest number of participants at the Envirothon state contest held this year at Jester Park Nature Center located in Granger, Iowa. Twenty-five Decorah students in grades 9-12 filled out five teams eager to test their knowledge of aquatics, forestry, soils, wildlife and waste disposal at the state competition. Decorah's five teams earned their participation in the state contest by each scoring as one of the top fifteen teams during regional competition.
Skabush team members Peter Essa, Nathaniel Myers, Henry Weis, Nathan Swarbrick, and Justin Berlage finished as the third best team in the competition by the narrowest of margins: less than one point to a team from Marshalltown. They also finished in a tie for first in the soil category with a FFA team from Muscatine.
Skabush also finished in a tie for first with Decorah's Cook's Critters–Grace Neal, Nadia Johnson, Thea Schissel, Alex McGohan, and Kera Walter–in the wildlife category. DNR (Decorah Nerd Republic) finished as the top point-getter in the forestry category. Members of the DNR team are Anders Lovstuen, Simon Kutz, Conner Evelsizer, Libby Phillips, and Gabriel Hiner.
Coach Berland remarked, "I would like to thank the school administration for their support of the Envirothon program. In addition, I could not have transported the students to the regional or state competitions without the help of Dale Wilharm and Ross Evelsizer. Ross, a past Envirothon participant who was a member of two state championship teams, also assisted in getting the students ready for the competition."
Algona FFA finished as the top team at this year's competition. They will represent Iowa in the International Envirothon competition to be held at Miami University located in Oxford, Ohio, July 24-30.