Decorah High School Celebrates Homecoming Week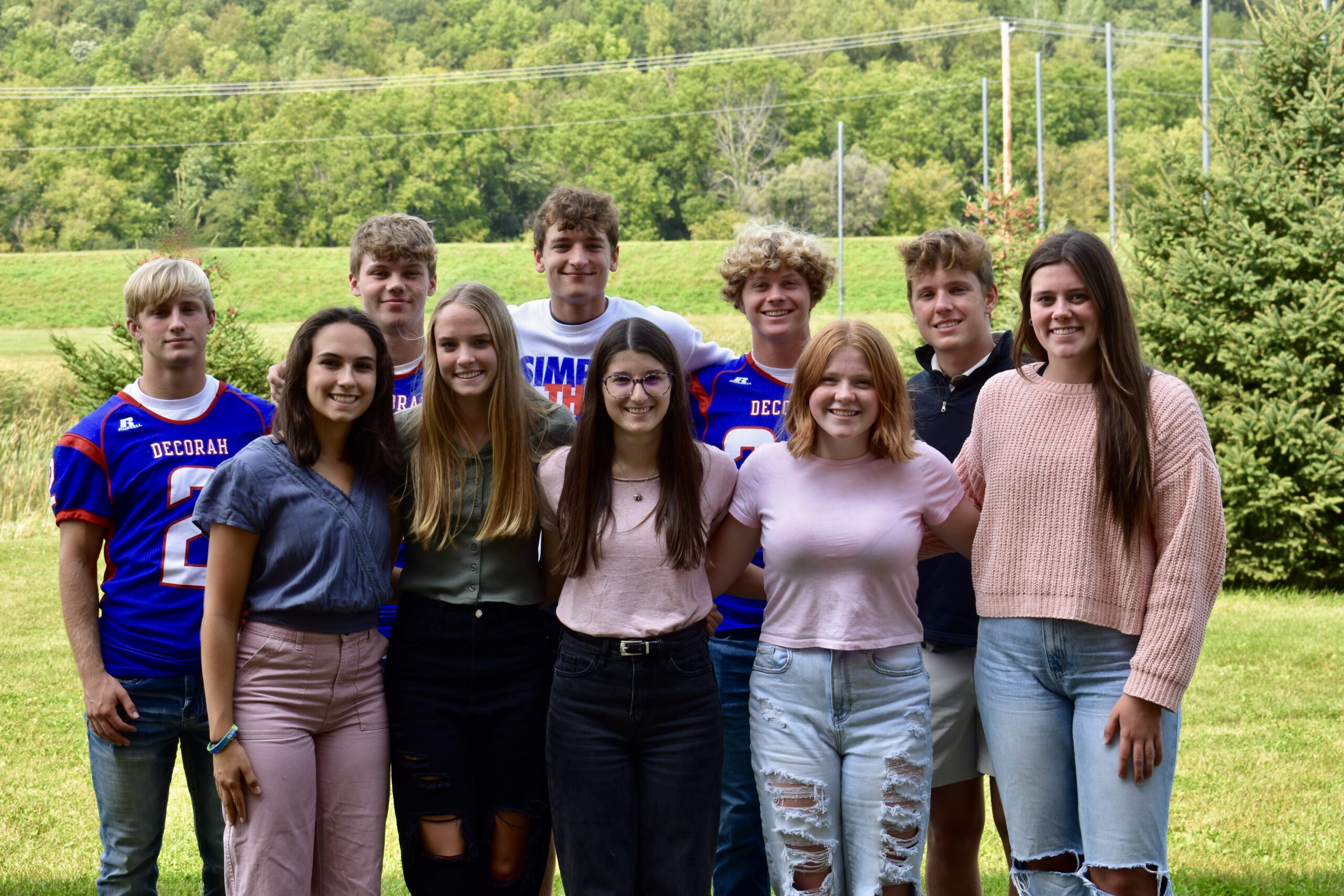 News
Students at Decorah High School are preparing for a week's worth of activities to celebrate Homecoming 2022.
Homecoming week activities will commence with the Viking Olympics on Sunday, September 11, at Decorah High School. Viking Olympics aims to develop camaraderie and encourage team building among students across all grade levels. Each of the ten teams competing will consist of two boys and two girls from each grade level. They will compete against each other in trivia, kickball, bags, and tug of war. Proceeds from the Viking Olympics will be donated to a charity of the students' choice.
The student body's choice for Homecoming king and queen will be revealed at the coronation ceremony on Friday afternoon, September 16, in the Decorah High School auditorium.
Queen candidates from the senior class include Rebecca Bruening, daughter of Keith and Amy Bruening; Sophia Christman, daughter of Robert and Victoria Christman; Ella Grouws, daughter of David and Jennifer Grouws; Ellen Rooney, daughter of Dave and Annette Rooney; and Annalise Skrade, daughter of Paul and Miriam Skrade.
King candidates from the senior class include Jaden Baker, son of James and Wendy Baker; Ethan Bockman, son of Jason Bockman and Tonyia Seiler; Erik Hjelle, son of John and Tracy Hjelle; Jackson Knoke, son of Fred and Amy Knoke; and Benjamin Wymer, son of Curt and Sarah Wymer.
Junior class attendants are Hayley Stowe, daughter of Haywood and Erika Stowe, and Peter Essa, son of Jared and Tracy Essa.
Representing the sophomore class as attendants are Leah Holland, daughter of Steve and Krista Holland, and Grant Zilka, son of Keith and Jessica Zilka.
Lauren Luzum, daughter of Brian and Jennessa Luzum, and Trevor Kuennen, son of Ted and Nicholle Kuennen, will represent the freshman class.
A pep rally will immediately follow the coronation. The Homecoming parade will start at 2:30 p.m. at the high school and follow the traditional homecoming parade route down West Water Street and River Street.
It will be a clash on the gridiron as the Decorah Vikings take on the Comets of Charles City on Friday evening at 7:30 p.m. The Decorah freshman football team will play at 5:00 p.m.
The Homecoming queen and king, their court, and their parents will be presented at halftime of the varsity game, along with a performance by the Decorah High School Pride of the Vikings marching band.