Decorah Educator Tyler Wedemeier Receives Excellence in Teaching Award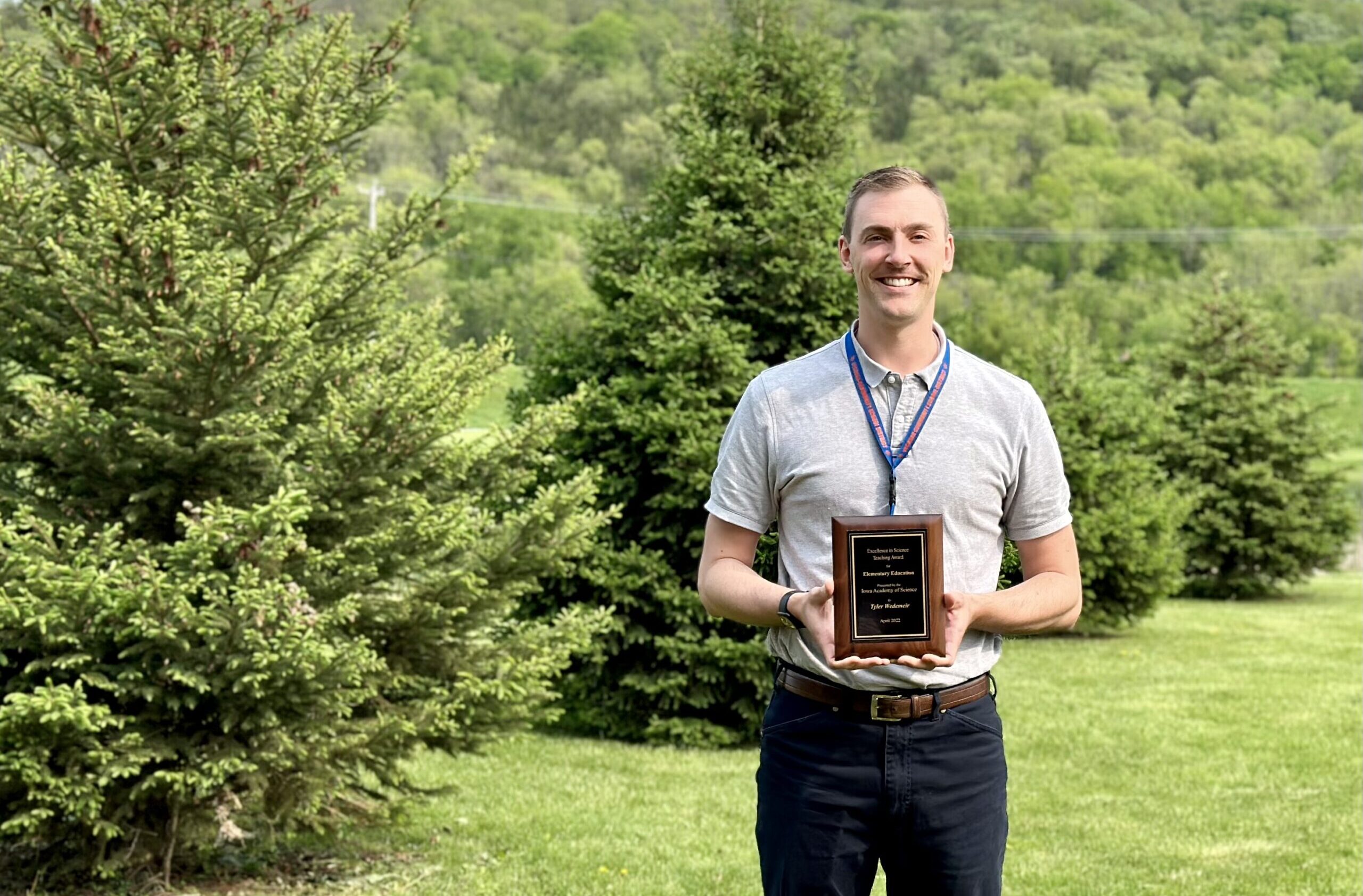 News
Decorah educator Tyler Wedemeier has been recognized by the Iowa Academy of Science with an Excellence in Science Teaching Award. The award is based on Wedemeier's strong educational background combined with his commitment to science education and to professional development. In addition, he was recognized for the creation of a stimulating environment for learning science and a mastery of educational strategies and appropriate assessments.
Wedemeier partnered with Winneshiek County Conservation in the development and delivery of an award-winning unit of instruction. The Iowa Association of Naturalists and the Iowa Conservation Education Coalition granted the 2021 Chris Holt Youth Environmental Education Award to his Dry Run Watershed History and Flood Mitigation unit.
Wedemeier was also a partner in implementing a Resource Enhancement and Protection (REAP) grant obtained by Winneshiek County Conservation. Titled "Bundled, Place Based, and Assessable: A New Model for Environmental Education in Iowa," the grant reached 63 teachers and naturalists throughout the state of Iowa with workshops, collaborative learning, and materials.
Before becoming an instructional coach for the Decorah Community Schools, Tyler was recognized as an effective and well-loved classroom science teacher. "It was his precise attention to science standards, meaningful assessments, and data driven instruction that served as a model and inspiration for other teachers," remarked Birgitta Meade, Environmental Studies instructor at Luther College. She continued, "In addition to his technical expertise, Tyler has delightful gifts of warmth, caring, and pragmatism that inspire others. He leads by example in order to bring out the best in everyone."
Barbara Bohach, Associate Professor of Education, shared, "I have been so impressed with Tyler's teaching prowess and dedication to furthering the quality of science education for elementary teachers and their students. He was in the first group of Luther elementary majors to teach in a community partnership between The Norman Borlaug Foundation and local 5th graders when he was a student at Luther College. As an adjunct instructor this spring, he now leads our current prospective elementary teachers. It is amazing to see Tyler now coming 'full circle' from his time with us as a preservice teacher to his role now as a teacher-leader and model of expert teaching. He is so deserving of this recognition."