DCSD Releases COVID-19 Data and Transition Details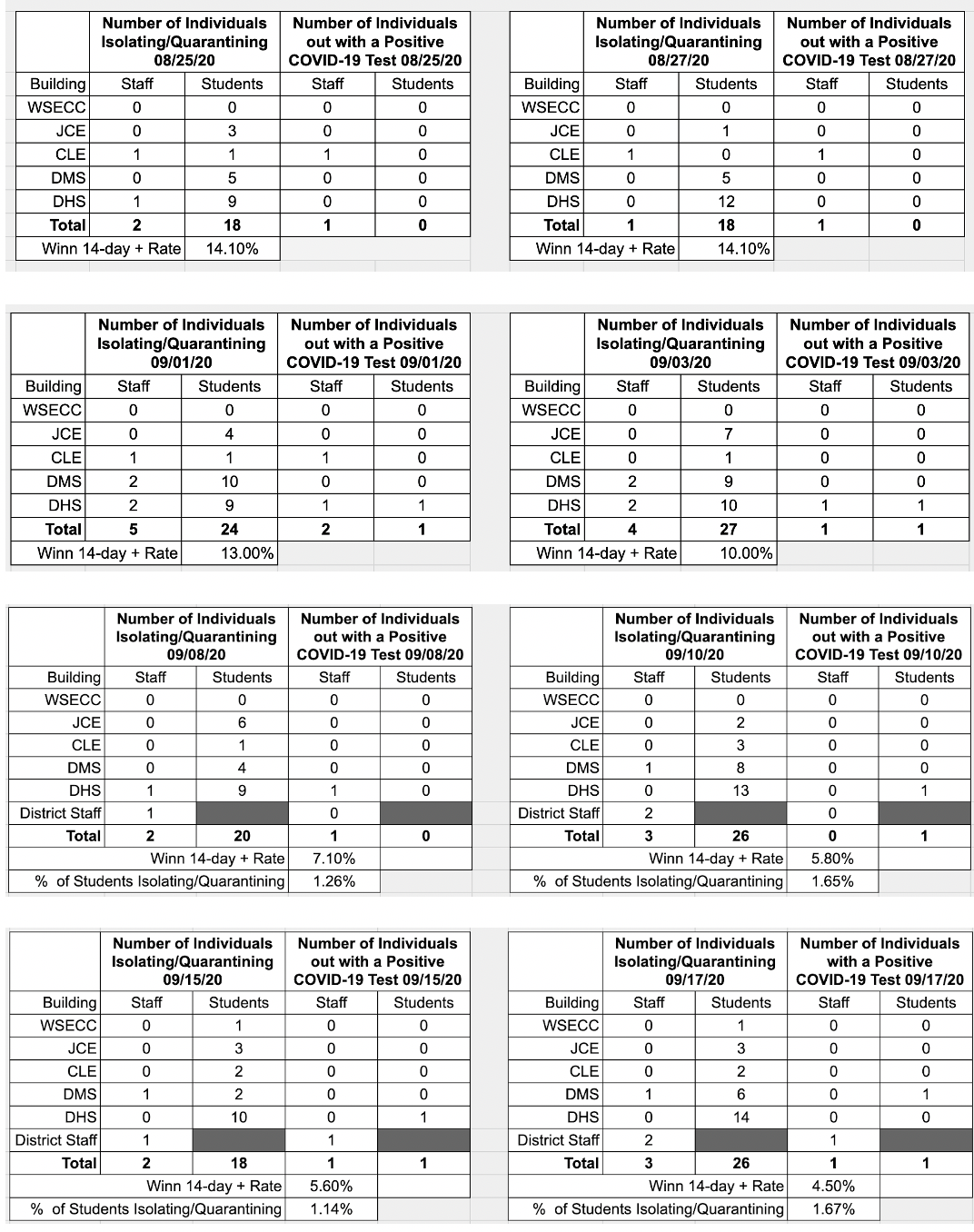 News
September 18, 2020
Using the guidance Iowa schools have been given to assist in learning model decision making and partnering with local public health departments to conduct contact tracing, Superintendent Mark Lane and staff have been monitoring and tracking staff and student absenteeism daily. This is a part of their efforts to ensure a safe and healthy learning environment. Nurses, principals, and building administrative assistants work collaboratively with students, families, and public health to understand who may need to be in isolation or quarantine.
Lane stressed the importance in understanding the difference between isolation and quarantine. Isolation separates sick people with a contagious disease from people who are not sick. Quarantine separates and restricts the movement of people who were exposed to a contagious disease to see if they become sick. These people may have been exposed to a disease and do not know it, or they may have the disease but do not show symptoms.
The COVID-19 related data tracked daily remained stable this week. The tables below represent a snapshot in time taken each Tuesday and Thursday.
The District continues to see that new staff and/or students may move into quarantine on a daily basis. When that occurs, district personnel work with the staff person, student, the student's family, and Winneshiek County Public Health to understand when a possible exposure or a positive test occurred, and then they set the date when isolation or quarantine will end. Lane shared, "We know periods of isolation or quarantining are challenging, and we appreciate the cooperation of our staff, students, and families in ensuring the safety and health of our school community."
He added, "We will continue to monitor our data daily and provide these weekly updates. If a need arises for any type of emergency communication, we will use our SchoolMessenger system and other public notice measures to share information."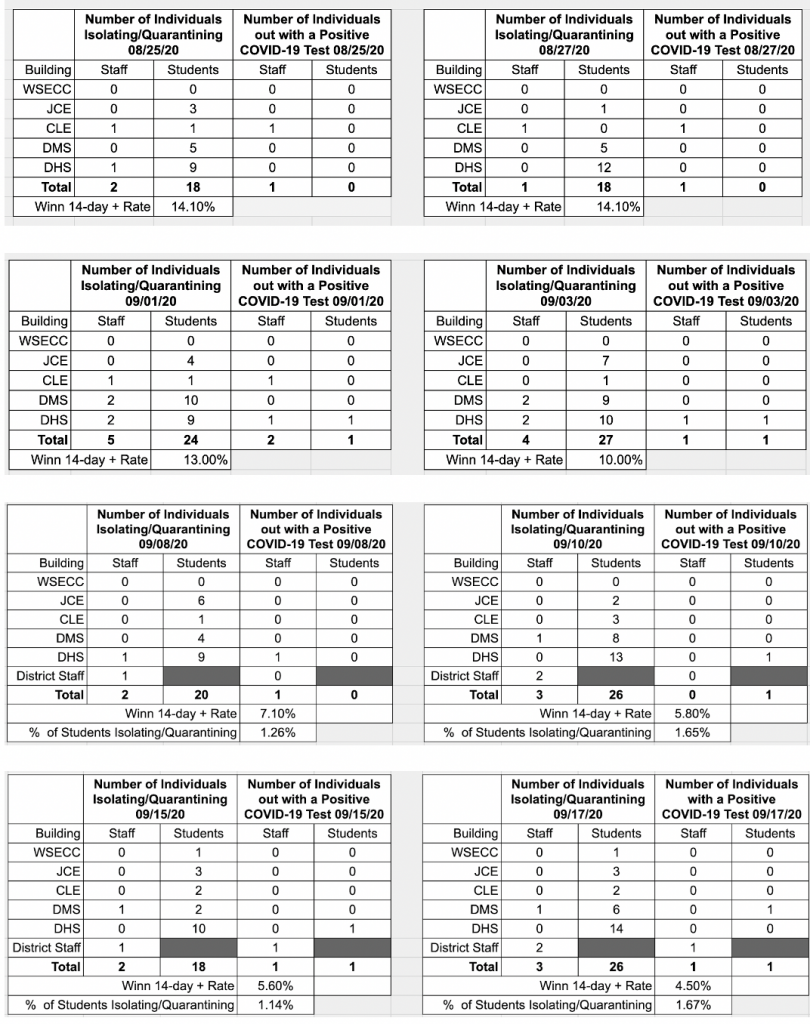 Transition to On-site Learning
On August 3, the DCSD Board of Directors approved the District's Return to Learn plan which includes a tiered approach to reopening schools. Tier One was a Hybrid Learning Model which would be deployed from August 24 through September 25. Tier Two was an On-site Learning Model beginning Monday, September 28. Details of each model can be found in the Return to Learn Summary.
The District continues to plan and prepare for transitioning to Tier Two, On-site Learning, for all students beginning Monday, September 28. Lane remarked, "As I mentioned in my message Tuesday, we have met the goals we set when we developed our tiered reopening approach, and we remain pleased with the trends we are seeing with county and district COVID-19 related data."
He added, "We appreciate the feedback we have received from parents, students, and staff. I understand that there are widely disparate feelings and beliefs regarding COVID-19 and the approaches we have taken as a district. We received 685 responses to the survey we shared Tuesday, with 375 people providing comments."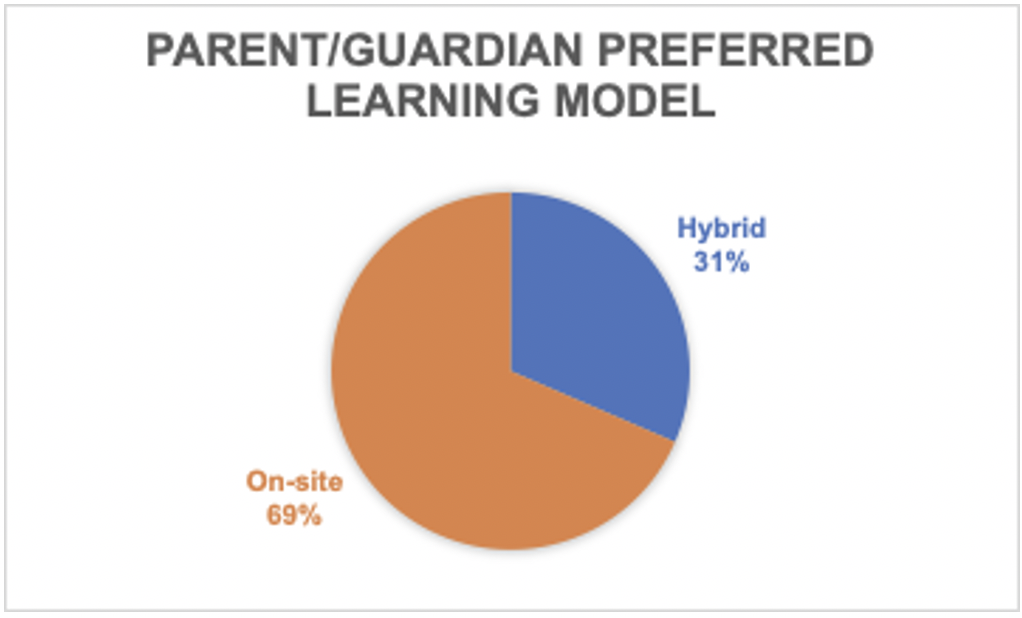 "My greatest takeaway from the comments is the incredible challenge hybrid learning has posed to many families. We know most students don't have an adult at home during the day to assist with learning. We understand that hybrid learning exacerbates challenges faced by special education students, at-risk students, and families with limited or no internet connection. We developed our Return to Learn plan with the aim to safely transition to on-site learning. I believe this return is in the best interest of our students, and that we can continue with our most essential mitigation strategies: mask wearing, good hand hygiene, staying home when sick, physical distancing when possible, and small social circles away from school," Lane concluded.
The District will continue to monitor local conditions and collaborate with Winneshiek Public Health to understand the local data. The Board of Directors will hold a special meeting Wednesday evening to act on the learning model.