DHS Robotics Team Headed to the State Championship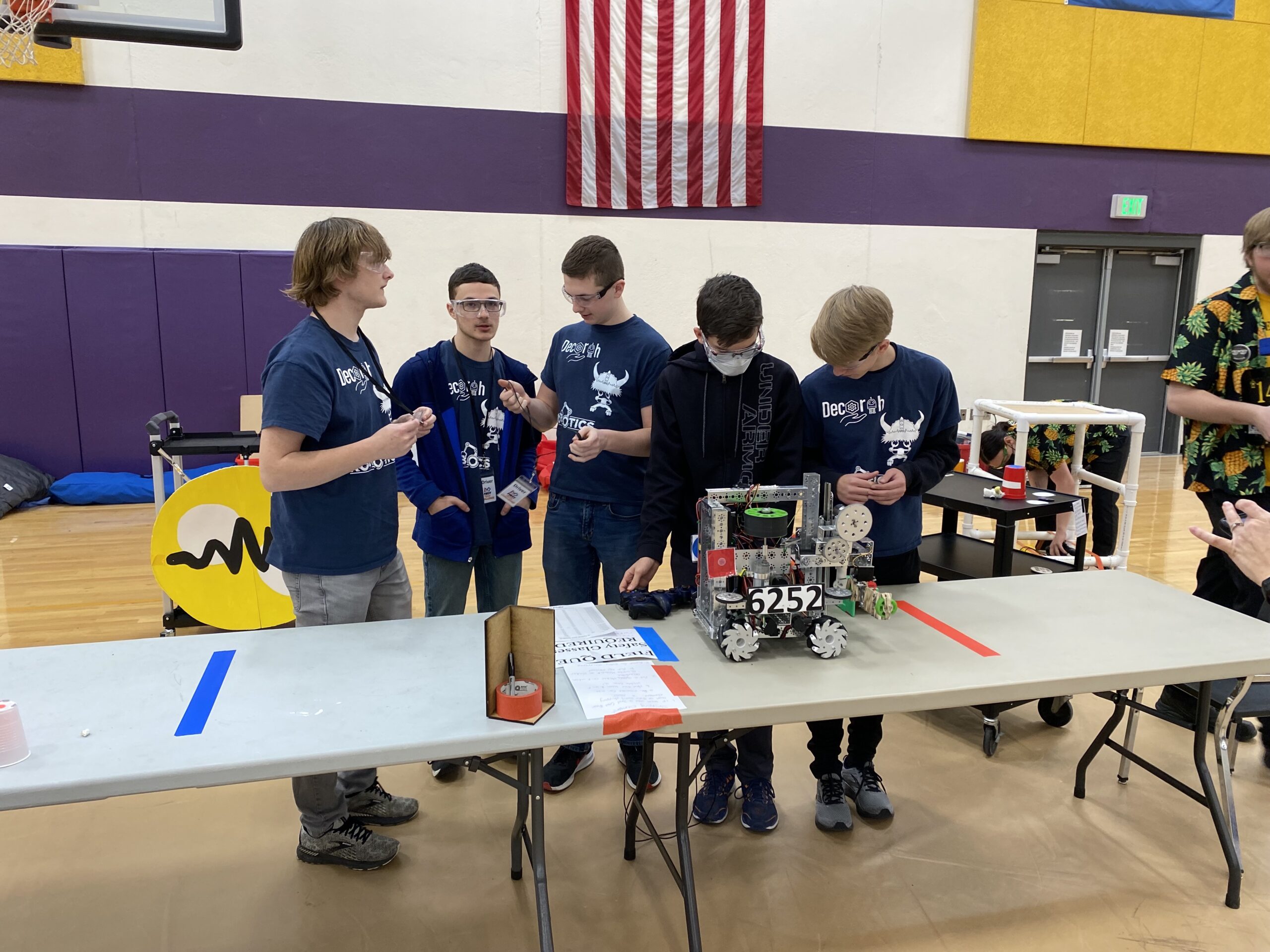 News
The Decorah High School junior/senior robotics team, the Wacky Waving Inflatable Arm Flailing Tube Men, competed in the Super Qualifier event in Norwalk on Saturday, February 12. The team members­–seniors Kolten Gossman, Tyler Shedinger, Weston Everson, Grant Timm and juniors Aiden Burroughs, Ethan Stravers, Justin Berlage, Nathaniel Myers, Junior Battle–played six qualification matches throughout the morning and afternoon, including posting a team high score of 230 when playing with team Still Under Development from Black Hawk County during one of the matches. They finished the qualification matches in 8th place, securing their spot at the state championship Friday, February 18 and Saturday, February 19 at the Xtream Arena in Coralville. In the playoff rounds the team was paired with two alliances, CrossFire from Valley Lutheran High School and the Shells Bots from Waverly, but they lost in the first round to the eventual championship team from Waukee, the Enginerds.
Earlier in the season, both the junior/senior and freshmen/sophomore robotics club teams competed in the League Championship competition on Saturday, January 29 in Cedar Falls. The freshmen/sophomore team, the Treads of Terror, climbed from 12th place to 8th place during the competition. A highlight for the team was when an all-freshmen driving team of Jerald Thompson, Kellen Roffman, and Mason Myers won their first match together this year.
The junior/senior team held steady in 2nd place throughout the competition, despite the collapsing of the inspection table with their robot on it, leading to the replacement of many bent parts. This allowed them to continue into the playoff rounds and "draft" their alliance partner, team 9968 Crossfire from Lutheran Valley High School. Together, they defeated the 3rd and 1st ranked alliances, winning their final match 214 to 182. They were awarded the League Champion trophy and the Judges' Choice Award for being highly rated in all categories of the competition.
Coach Brett Wilker remarked, "I am extremely proud of both of our teams this year as they have learned and accomplished so much throughout our season. The students have spent over five months designing, building, and programming their robots, and that hard work and dedication paid off by helping them earn high rankings in our league. The students have learned a lot about engineering, coding, and robot design as well as team work and persistence in the face of all of the challenges they've faced. We are all excited to be the first robotics team to represent Decorah at the Iowa Championship this weekend, going up against the best teams in the state."