DHS Robotics Club Team Headed to State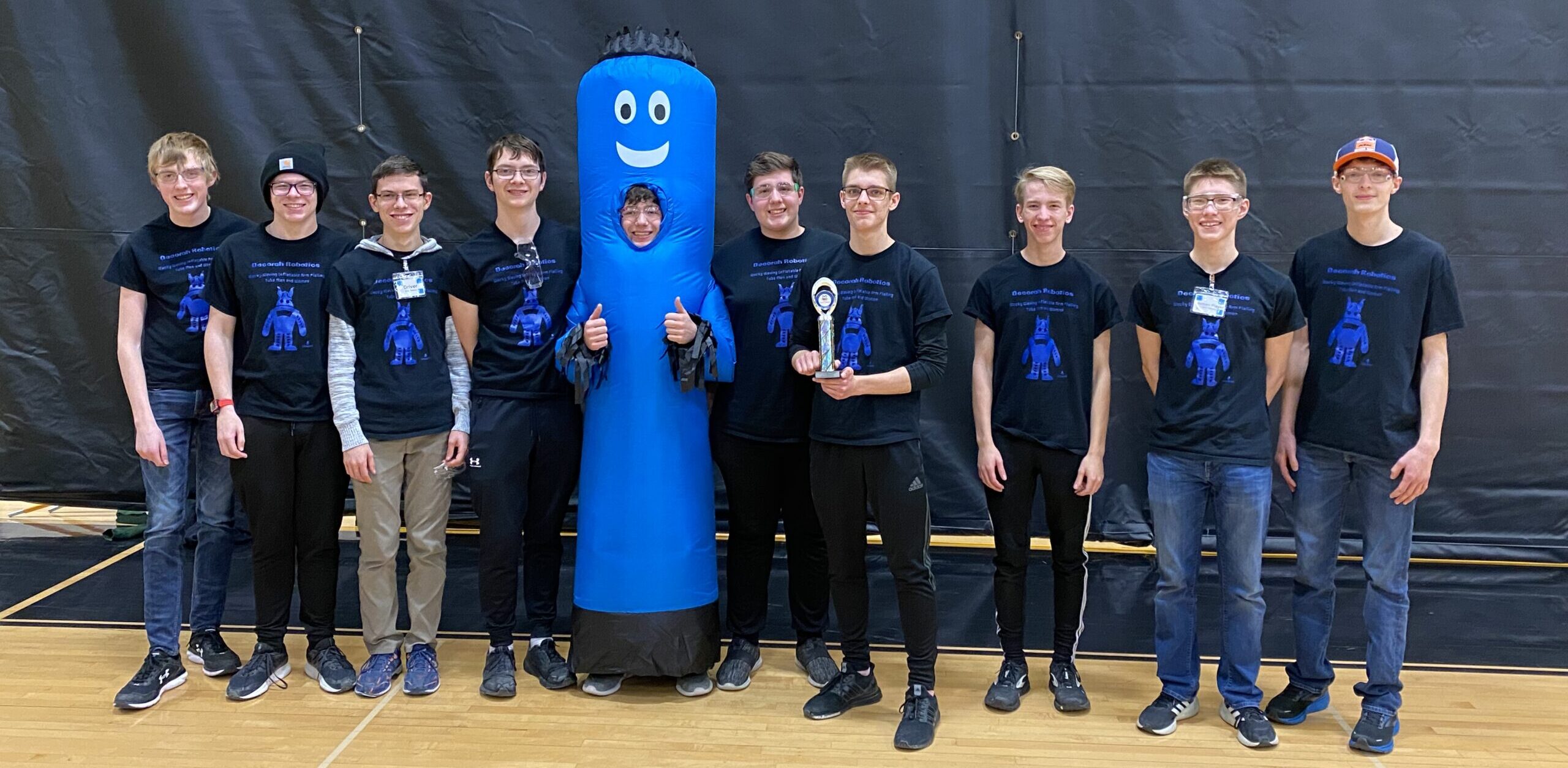 News
The junior/senior robotics club team from Decorah High School, named the Wacky Waving Inflatable Arm Flailing Tube Men and Women, competed in their Super Qualifier, sub-state competition in Bettendorf on Saturday. Because of their performance, they are headed to the state competition. Team members who competed include Cody Carolan, Quin LaBelle, Justin Berlage, Nathaniel Myers, Montana Jump-Gerleman, Brock Christensen, Aiden Burroughs, Ethan Stravers, Nathan Swarbrick, and Travis Nordheim. The rest of the team–Junior Battle, Henry Weis, Peter Essa and Anders Lovstuen–were representing Decorah High School at a different event.
The robotics club competes in a worldwide competition known as FIRST Tech Challenge, a program that helps prepare young people for the future through STEM education while building leadership and collaboration skills. Each September, teams of 7th – 12th graders are given an obstacle course scenario played on a 12-foot square playing field. Teams then design, build, and program an 18 x 18 x 18-inch robot that they can both run autonomously and be driver controlled to accomplish as many of the scenario's tasks as possible. This season's course is named Power Play and requires teams to place as many of their colored cones onto different pole junctions in an effort to connect circuits of their color across the field.
In January, the team won its league championship and earned a spot in the Super Qualifier event. After their six qualification round matches at the Super Qualifier, the junior/senior team finished in third place going into the playoff rounds. This gave them the opportunity to choose two alliance partners to play with them going forward.
The team chose the 5th ranked team UBett from Bettendorf High School and 10th ranked Xcentrics from Xavier High School to join them. The alliance won their semi-final competition in two matches and advanced to the finals to play against the 1st, 2nd, and 9th ranked teams from Waterloo, Cedar Rapids and Pleasant Valley High School in a best of three series.
After winning the first match due to the other alliance having technical difficulties, the second match was a tight competition. The Decorah alliance would have only won by three points, but the opposing alliance accidentally knocked over a stack of 15 cones Decorah had made, incurring a 150-point penalty. The final score was 255 to 180, with the Wacky Waving Inflatable Arm Flailing Tube Men and Women leading their alliance to victory. The team also received third place honors for the Control Award given to the team who best explains and uses sensors, programming, and autonomous functions in their robot design.
The Wacky Waving Inflatable Arm Flailing Tube Men and Women will be joining 47 other Iowa robotics teams competing again at the Iowa State Championship on March 3rd and 4th at the Xtream Arena in Coralville.