DMS Mock Trial Team Wins State Trophy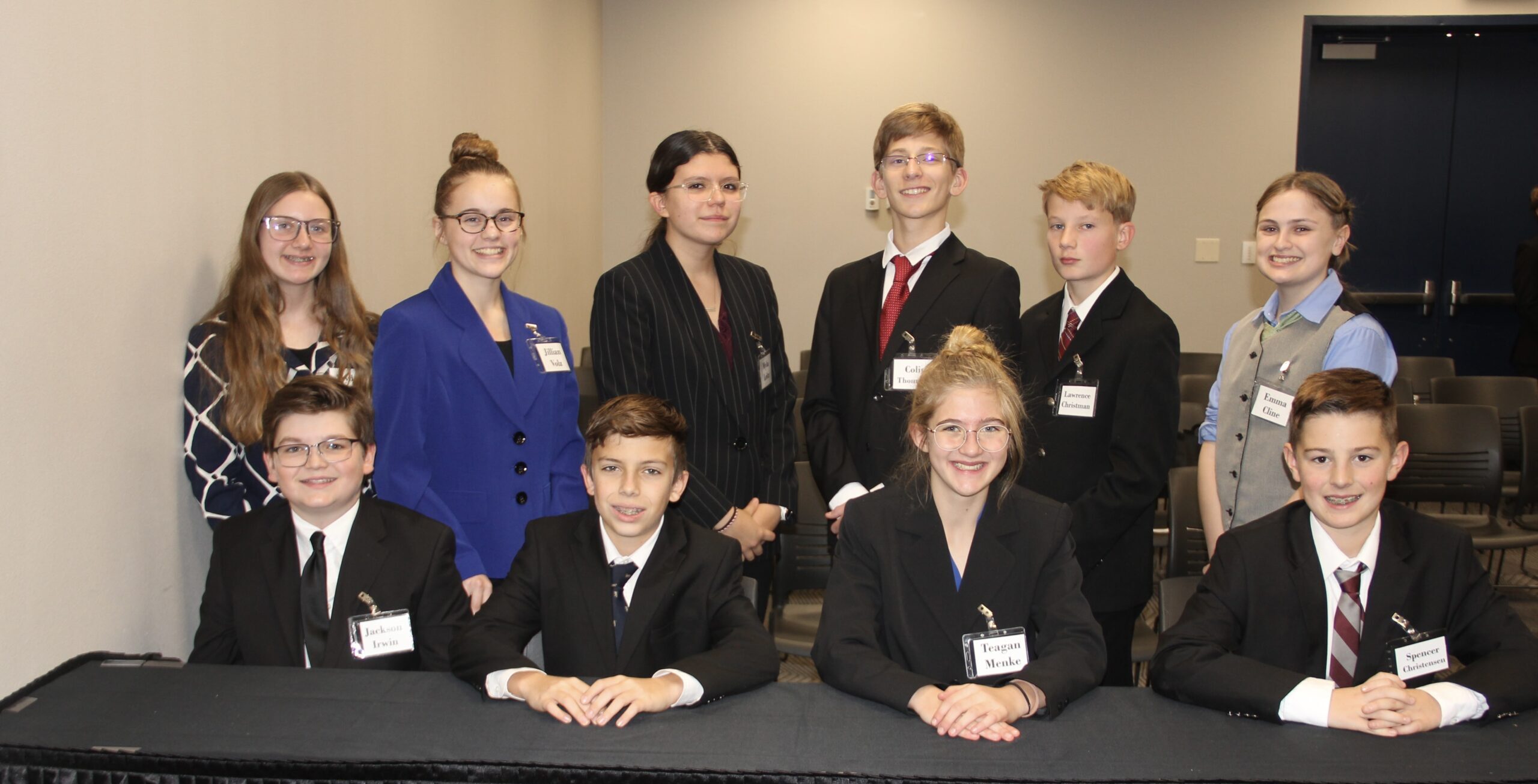 News
Decorah Middle School teams had strong performances at the State Mock Trial competition, earning a trophy and two outstanding performance medals.
Decorah's 8th grade team won the seventh-place trophy out of 32 teams that competed at State. Decorah was edged out by 4 points by the team that advanced to the semi-final round.
Decorah's 7th grade team received the most nominations from participating teams to win the Critelli Award for outstanding "professional conduct, courtroom decorum, civility and sportsmanship."
Two Decorah students were honored with All-State individual medals: Lulu Bellrichard and Jillian Volz for Outstanding Attorney. To earn this award, a student must be nominated by both judges as their top choice in a single round.
The two Decorah teams qualified for the State competition by placing first and second at the Regional competition in Waterloo. Decorah's other two teams placed fourth and fifth. Over 125 teams compete in Regionals statewide.
This year's case was a personal injury civil trial about a customer who fell down two flights of stairs in a restaurant during a busy lunch rush. For the competition, students write scripts as attorneys and witnesses and perform trials as plaintiff and defense against opposing teams.
"This was a very challenging case this year with four expert witnesses and many technical documents," said teacher coach Carole Sand. "I'm very proud of our Decorah students. Winning the 7th place trophy, two outstanding performance awards, and the Critelli Award at State is a testament to the students' hard work, talent, and commitment."
Many Decorah participants were nominated or honored for outstanding performances as attorneys or witnesses at the regional and state tournaments, some by numerous judges.
Outstanding honors went to 8th graders Lulu Bellrichard, Spencer Christensen, Lawrence Christman, Emma Cline, Thomas Davis, Jackson Irwin, Naomi Kutz, Myla Leitz, Jayden Lundtvedt, Gavin Luzum, Teagan Menke, Olivia Rissman, Grace Stockman, and Jillian Volz.
Seventh grade outstanding performers included Poppy Bellrichard, Isaac Bentley, Matthew Burkholder, Pranav Caton, Leah Garcia-Prats, Max Goodner, Kaya Johnson, Kora Kelly, Sophia McGee, Shriyansh Patel, Kate Pattison, Nils Peterson, and Davis Walter.
DMS Mock Trial is part of the school's Extended Learning Program. Coaches include Sand, Scott Boylen, and Sarah Zbornik. Supporting the program are volunteer expert mentors: attorney Sandra Benzschawel, Judge Marty Lingreen, Judge Linnea Nicol, Luther graduate Peter Stelter, and former Decorah student Jacob Stock. Decorah High School assistant coaches include Mara Branum, June Breitenbach-Dirks, Grace Blikre, Mikayla Hiner, Evon Leitz, Nora Lesmeister, Lily Sandhorst, Kamryn Steines, and Kaylie Wemark.
"We owe much of our success to all of the mentors, assistant coaches, and high school students who donate countless hours to work individually with our students," said Sand. "We also appreciate Lisa Lantz at The Getup for donating clothing for our costumes."