Decorah High School National Honor Society Inducts 52 New Members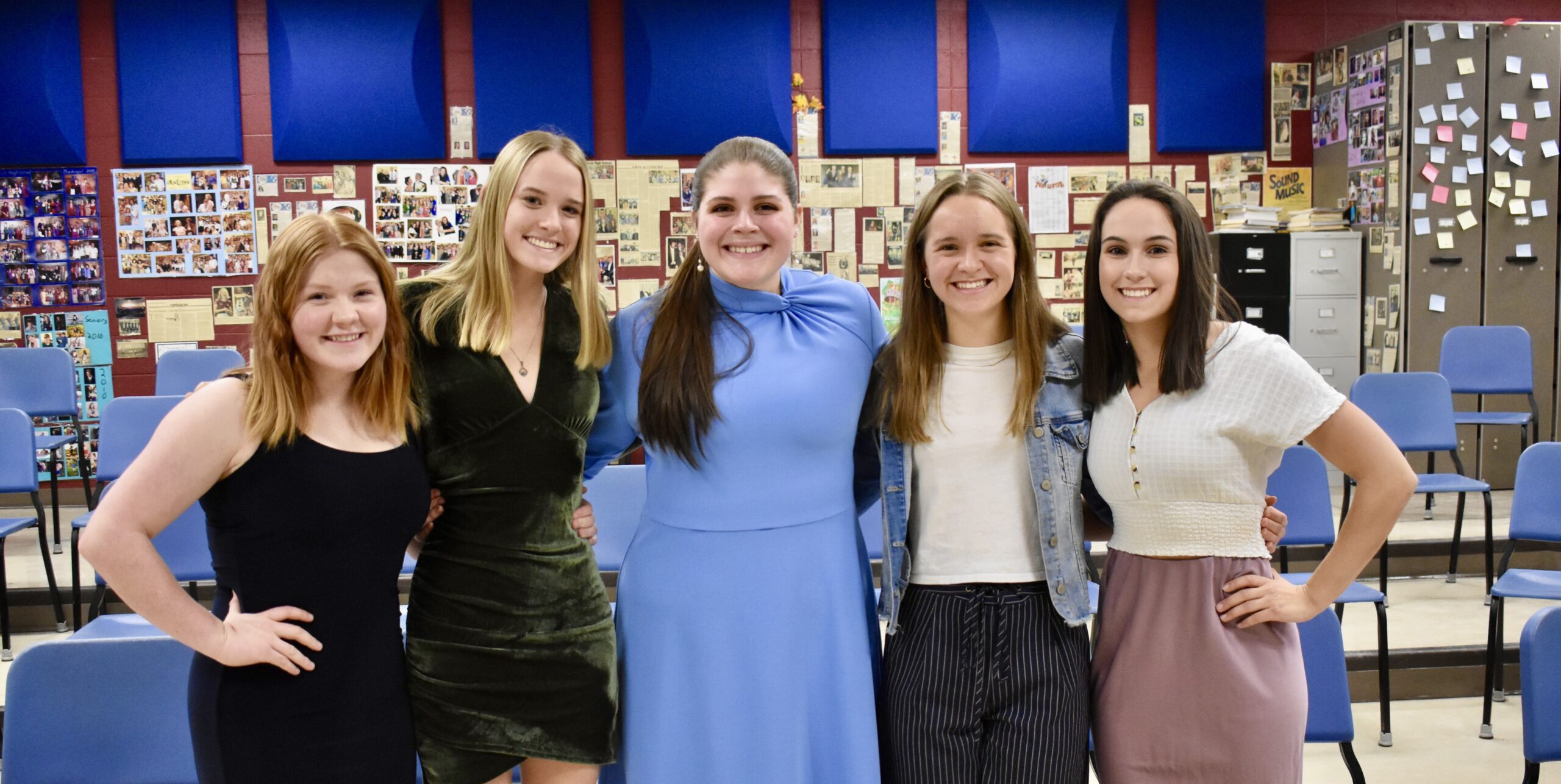 News
The Decorah High School chapter of the National Honor Society inducted 52 new members during its annual induction ceremony Monday, January 30, at 7 p.m. in the high school auditorium.
This year's program included speeches by the NHS officers: Ella Grouws, Annalise Skrade, Rebecca Anderson, Sally Laybourn, and Ellen Rooney. Music featured included an orchestra ensemble and a performance by the Madrigal Singers.
In order to be inducted into the National Honor Society, a student must have maintained a minimum 3.5 grade point average and must have demonstrated effective leadership, scholarship, character, and service. Members are selected by a committee of faculty members after a review of applications.
The new National Honor Society senior inductees for this year are Jaden Baker, Casey Brickley, Benson Newhouse, Brock Taylor, and Benjamin Wymer.
The new National Honor Society junior inductees include Brooke Anfinson, Lucas Arendt, Annaleissa Arnold, Brady Bohner, Caden Branum, Annika Brynsaas, Grace Brynsaas, Cody Carolan, Brock Christensen, Olivia Christopher, Peter Essa, Jorja Folkedahl, Lydia Frank, Madelyn Fromm, Bethany Hanson, Brody Hanson, Brayden Hartl, Gabriel Hiner, Elayna Hook, Kathryn Kelly, Sydney Kipp, Simon Kutz, Evon Leitz, Danielle Losen, Anders Lovstuen, Alexander McGohan, Lydia Monreal-Rice, Creed Monroe, Aidan Nalean-Carlson, Brenna Parker, Liberty Phillips, Elizabeth Pritchard, Jeramiah Rediske, Danielle Rix, Naomi Simon, Joseph Stammeyer, Brynn Storhoff, Grace Stortz, Will Teslow, Corina Timm, Fisher Tweten, Abbie Valkosky, Ciara Wedmann, Henry Weis, Yazmeen Whitsitt, Paige Wrightsman, and Kaiden Youngblood.
Current National Honor Society members include Julia Alberts, Rebecca Anderson, Kyleigh Batterson, Justin Berlage, Lange Betts, Isabella Bishop, Ethan Bockman, Hailey Bohr, Hailey Bower, Rebecca Bruening, Lydia Caddell, Leslie Campbell, Sophia Christman, Amelia Dugger, Bryar Duwe, Ella Grouws, Sydney Hageman, Nev Kairi Harper, Jenna Hartz, Dahlyn Headington, Madison Heim, Erik Hjelle, Ethan Holthaus, Grace Hoyland, Amy Jensen, Alexandra Kane, Jackson Knoke, Brinley Krivachek, Sally Laybourn, Franklin Lesmeister, Ada Lovelace, Jacob Magner, Britann Mettille, Rachel Mikkelson, Morgan Moen, Sami Mount, Nathaniel Myers, Grace Neal, Michael Njus, Kortni O'Connell, Kylie O'Hara, Julia Phillips, Mya Redenius, Chloe Reiser, Ellen Rooney, Autumn Schaller, Thea Schissel, Carter Schmelzer, Hannah Schnitzler, Mairi Sessions, Annalise Skrade, Daniel Skrade, Ethan Stravers, Gareth Sweet, Jaden Weis, Addison Wemark, Paige Werner, Max Wilson, and Emma Wold.
Liz Fox and Shannon Horton are the faculty advisers of the Decorah chapter of the National Honor Society at Decorah High School.