DHS Awarded Grant to Replace Garden Beds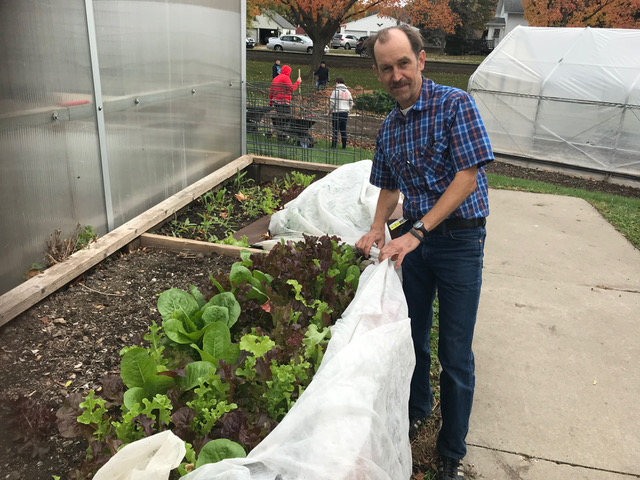 News
Chad Elliott, Nutrition Director and Culinary Specialist for Decorah Community School District, works in tandem with science teachers Tim Hayes and Brad Johansen to help provide fresh food to students and staff. When he learned the cedar raised beds used to grow some of that food were falling apart after ten years of significant use, he wrote a grant to replace them.
This week the district was informed they are the recipient of a "Grow it, Eat it Sub-Grant," provided through the 2022 USDA Farm to School Grant received by the Iowa Department of Education. This will allow the high school to spend almost $2000 replacing the raised beds.
According to Elliott, "These beds produce bushels of basil and gallons of peppers each year for the kitchen to incorporate into school menus. Replacing the wooden beds with stone will last longer and match the stone raised bed already in place on the west side of the greenhouse. The nutrition department uses the basil to make pesto for the creamy tomato-basil soup served in the winter months. The peppers are used for salads, chicken fajitas, Philly cheesesteak sandwiches, and fresh garden salsa."
The raised beds will be assembled by students with the help of teachers. Horticulture and Environmental Science students will then plant basil, flowers, and peppers grown from seeds in the high school greenhouse. These students will tend the beds during the growing season and then harvest and deliver the food to the kitchen when ready. To complete the cycle, food scraps are collected in the cafeteria and used to make compost for the gardens.
Elliott added, "Building these two beds will give the students pride in knowing their hard work will be appreciated by so many future students. Planting produce in the beds and weeding and watering during the growing season teaches students responsibility and gives them the experience of growing a garden that they can use into their adult lives. Harvesting and then consuming the produce in the cafeteria will give them a great understanding of where food comes from. Students will participate in this activity for many growing seasons into the future."