DHS Envirothon Teams Perform Exceedingly Well at Regional Contest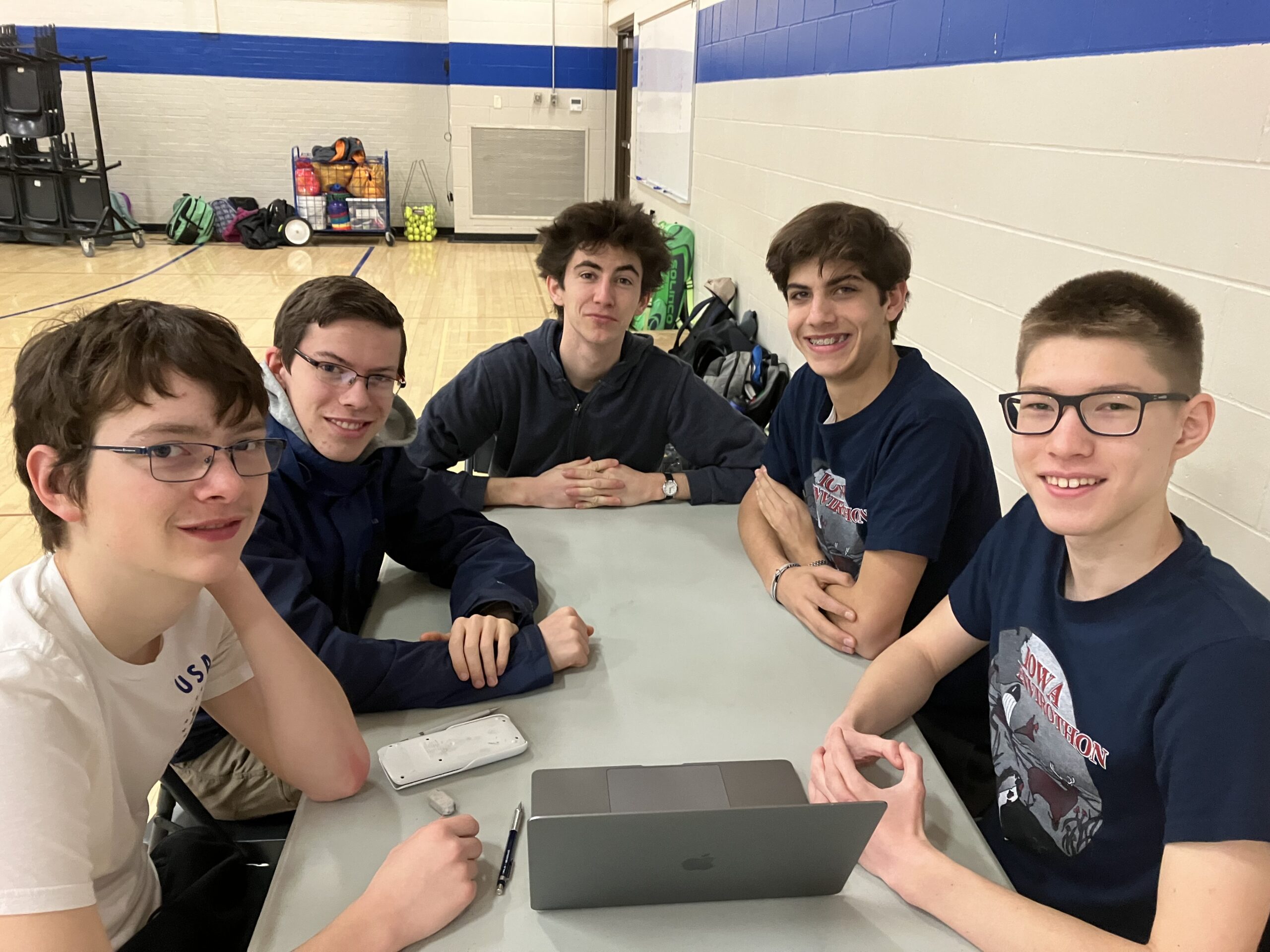 News
It is on to state for two Envirothon teams from Decorah High School following statewide regional competition. Decorah's Team Skabush–Justin Berlage, Peter Essa, Nathaniel Myers, Nathan Swarbrick and Henry Weis–finished tied for second, six points behind the top scoring team from Muscatine. Team DNR finished alone in third place, just one point shy of second place. DNR members include Lucas Arendt, Connor Evelsizer, Gabriel Hiner, Anders Lovstuen, and Aidan Nalean-Carlson. By finishing in the top 15, these two teams have earned the right to compete at the state contest to be held on April 24that the Jester Park Nature Center near Granger, Iowa.
Envirothon challenges students to hone critical thinking skills and create inventive solutions to the complex local and global environmental and natural resource issues facing our world today, whether in the field or in the classroom. Five member teams test their knowledge and critical thinking skills to conduct hands-on investigations, solve real-life scenarios, and answer written questions covering five categories: Aquatics, Forestry, Soils, Wildlife, and a Current Environmental Issue.
The team who finishes first on April 24th will represent Iowa at the international contest to be held July 23-29, 2023, at Mount Allison University located in Tantramar, New Brunswick, Canada.
Seventy Decorah High School students participated in the regional contest, establishing a new state record for the number of Envirothon participants from one school. This group broke the previous record of 50 students set by Decorah in 2022.
Six Decorah teams finished in the top 15 of the 53 competing teams from across Iowa after the regional contests. However, only the two top finishing teams from the same school are allowed to move on to state competition because of the "Decorah Rule," which has been in effect since 2007 after Decorah qualified four teams for that year's state competition. Until that time, no school had ever qualified more than one team in the top 15 teams.
The other teams who finished in the top 15 but will not be able to represent Decorah because of the "Decorah Rule" are listed below.
Team Poisonous Platypodes–Hannah Arendt, Lily Sandhorst, Sylvia Sandhorst, Amelia Wadsworth, and Margret Zook–finished tied for sixth place, three points out of third.
Teams Leaf Me A-loam and Team Swamp Donkeys finished tied for 10th place. Team Leaf Me A-loam members are Phuong Doan, Mason Myers, Kellen Roffman, Elias Sassaman, and Jerald Thompson. Team Swamp Donkeys members are Sophia Christman, Ella Grouws, Grace Neal, Thea Schissel, and Annalise Skrade.
Team Langers–Lange Betts, Eric Hjelle, Benson Newhouse, Ethan Stravers, and Max Wilson– finished in 15th place. Team Eco for Deco finished in 16th place, just one point behind 15th. Team members are Natalie Goodner, William Hahn, Reid Kuehner, Andrew Olson, and Klaara Short.
The teams listed below gave it their best but did not finish as one of the top 15 teams.
Teams Original Eco for Deco and Shockwave Monkiezz finished just one point behind Eco for Deco. Team Original Eco for Deco are Leslie Campbell, Britann Mettille, Beau Newhouse, Hannah Schnitzler, and Chloe Sheffield. Team Shockwave Monkiezz members are Annaleissa Arnold, Caden Branum, Jensen Korsness, Libby Phillips, and Brynn Storhoff.
Team Spooky Ducks members are Evynne Downing, Andie Gegax, Ellen Rooney, Mairi Sessions, and Rorie Wiedow.
Team Mitochondria members are Riley Berns, Alex McGohan, Clara Hjelle, and Anastasia Simon.
Team Oh Canada members are Mara Branum, Elsa Christman, Mikayla Hiner, Nora Lesmeister, and Kaylie Wemark.
Team Slaying Salamanders members are Grace Blikre, Annika Keefe, Kamryn Steines, Ivy Sullivan, and Kera Walter.
Team Green Goblins members are Marri Feuerhelm, Raleigh Lensing, Will Robinson, and Alina Tallier.
Iowa's Envirothon program is sponsored by the Conservation Districts of Iowa. The Envirothon program in Decorah is generously supported by the Winneshiek County Conservation Board and director Barb Schroeder, who adjusts work schedules to free up County Conservation employees Maggie Schwarz and John Kraus. Both Schwarz and Kraus were on Decorah teams who made it to the state Envirothon contest while in high school.
Envirothon adviser Larry Berland remarked, "Barb, Maggie, and John are vital cogs in our local Envirothon program success. They really enjoy sharing their stories as well as their environmental expertise at study sessions and outdoor activities. A huge thank you also goes out to the administrators and teachers at all levels in the district who have helped fuel the students' desire to be involved in so many activities. Many teachers encouraged students to join the Envirothon program, and its outstanding success is directly proportional to their efforts."
Berland continued, "With the exception of the 'Decorah Rule,' the Envirothon program is an exceedingly sound way to prime the interest of tomorrow's necessary environmental experts. People say that sometimes things just work out for the best. I must say that my being involved with the Envirothon program proves that saying to be true. I have to be one of the luckiest guys around. On a regular basis, I enjoy the opportunity to meet with 70 awesome individuals who show up for Envirothon study sessions and outdoor adventures. These Decorah students' concern and awareness of their natural environment is as much a part of their being as rommegrot and lefse are at Nordic Fest. They are destined to make a positive, we got your back, difference."