DHS Students Receive Tour and Generous Donation from Gemini

News
Three senior members of the Decorah High School's Robotics Team, their coach Brett Wilker, and principal Brad Hurst traveled to Gemini's plant to take a tour of their facilities led by engineer Ben Woita. "I love going on tours of Gemini's facility with the students because of the amazing technology they use at their plant. The students were able to discuss the real-world engineering problems the company was facing, and Ben was able to describe what they were doing to solve them, just like the students will be doing when they go off to college to study engineering. The students even brought back to the Robotics team solutions to problems to try to implement on our robots," said coach Brett Wilker.
Along with the tour, Gemini presented the representatives of Decorah High School a check for $10.000. Through Gemini's generous donations, the Decorah Robotics Club has been able to expand to supporting two teams at the school–a freshman/sophomore and junior/senior team–that includes more than 30 students. The funding will also allow the purchase of the latest parts and more sophisticated technology to work with as well as the continuation of developing the outreach opportunities the club can provide to the school and community.
The Decorah Robotics Club competes in the international competition known as FIRST Tech Challenge. Each fall students are presented with an obstacle-course style scenario where they are asked to design, build, and program a robot that can complete the different tasks assigned. This season competition, named Centerstage, requires robots to perform a variety of tasks, including picking up hexagonal "pixels" in order to stack them on a slanted board, launching paper airplane "drones" into target zones, using sensors to determine the random positions of different obstacles, and lifting their robots off the ground by hanging from a suspended pipe.
The teams have been getting more successful each year, with the junior/senior team winning their league competition and sub-state competitions last season. Both teams are hard at work designing, building, and programming their robots for this season as their first competition is on November 11th at Waverly High School.
Gemini gives 2% of their profits to local nonprofit organizations as part of their stewardship core value.
Megan Martin, business partner for Gemini shared, "Gemini is committed to our employees and the communities we live and work in. Our charitable contributions committee has had the opportunity to partner with Decorah Schools to further advance their STEM and Robotics programs. We pride ourselves on living out our core value of stewardship, providing students the opportunity to tour our facilities and engage with our team members to better understand the career pathways available at Gemini. We've enjoyed developing a partnership with the students to increase their knowledge of advanced manufacturing and help build on their skills as they prepare to enter the workforce."
Gemini is a wholesale manufacturer of solutions that identify, direct, and protect the world. For over 55 years, Gemini has been an industry leader producing made-to-order dimensional signage, plates, plaques, cast bronze memorials, industrial protective cases, and plastic parts. Gemini is a second-generation family-owned business headquartered in Cannon Falls, Minnesota, with production facilities throughout North America. For more information, visit https://geminimade.com/signage/.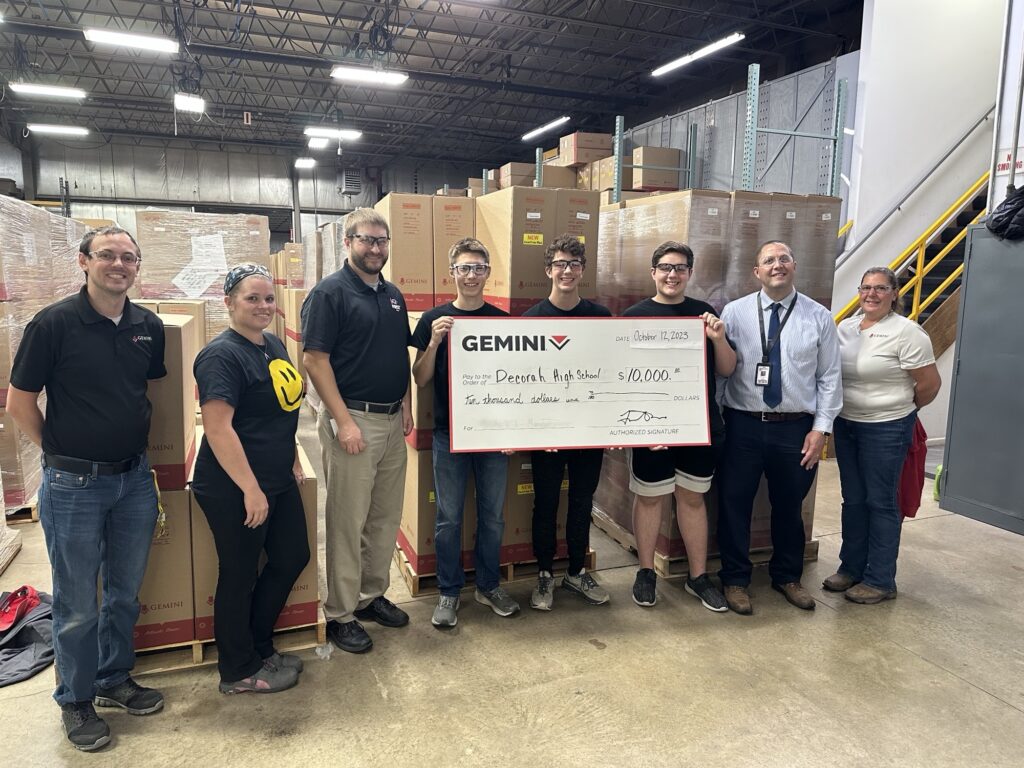 Photo ID (l-r): Gemini engineer Ben Woita; Contribution Committee Member Lauryn Breitsprecher; Robotics coach Brett Wilker; DHS senior robotic club members Nathan Swarbrick, Montana Jump-Gerleman, and Brock Christensen; DHS Principal Brad Hurst; and Contribution Committee Member Jenn Zweibohmer.