Featured for Educators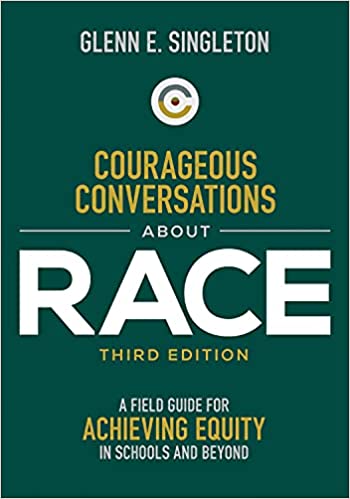 Courageous Conversations About Race: A Field Guide for Achieving Equity in Schools and Beyond | Glenn E. Singleton
Schools, like all organizations, face a nearly insurmountable hurdle when addressing racial inequities―the inability to talk candidly about race. In this timely update, author Glenn Singleton enables you to break the silence and open an authentic dialogue that forges a path to progress for racial equity. The third edition offers new coverage of the structural inequities in schools and society that have been exposed by the pandemic as well as heightened public awareness of racial injustice. Courageous Conversations about Race allows you to deepen your personal understanding of race and its impact on all students. You will discover how to apply the strategy and protocol to
Embrace the four agreements―stay engaged, speak your truth, experience discomfort and accept non-closure―to deepen interracial dialogue
Build a foundation for advancing equity using the Six Conditions of Courageous Conversation
Examine the role of race in your life using the Courageous Conversation Compass to understand and guide your actions
Expand your capacity to lead others on the journey in addressing institutional racism disparities
This guide empowers you with practical tools and insights to successfully challenge racist policies and practice in schools and beyond. It is your call to leadership―one that will impact student achievement and drive systemic transformation.
Why Are All the Black Kids Sitting Together in the Cafeteria? | Beverly Daniel Tatum, PhD
Walk into any racially mixed high school and you will see Black, White, and Latino youth clustered in their own groups. Is this self-segregation a problem to address or a coping strategy? How can we get past our reluctance to discuss racial issues?
Beverly Daniel Tatum, a renowned authority on the psychology of racism, argues that straight talk about our racial identities is essential if we are serious about communicating across racial and ethnic divides and pursuing antiracism. These topics have only become more urgent as the national conversation about race is increasingly acrimonious. This fully revised edition is essential reading for anyone seeking to understand dynamics of race and racial inequality in America.
Reading Lists
Explore this list of 95 titles that celebrate Black culture, history, and experience, curated by the expert librarians at the Schomburg Center for Research in Black Culture.
Schomburg Center's Black Liberation Book List for Kids and Teens
A companion reading list for kids and teens that celebrates and fosters a better understanding of Black life and culture, chosen by the experts at the Schomburg Center.
Created by The New York Public Library School Support team, this list offers a selection of titles for students of all ages that address race, racism, and resistance.
Questions for classrooms and at-home discussions about titles from our book lists centering on anti-racism, resistance, and social movements.
Find online resources to help teach the history of racism, the context for the current uprisings, and anti-racist activism—all available with a library card.
A list of several titles broken down by age range can help explain racism and protest to your students.