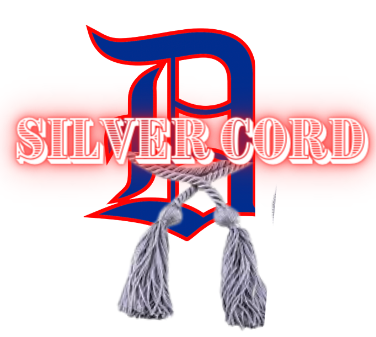 The Silver Cord Award is a distinguished graduation award available to DHS students who volunteer for a total of 200 service hours and is awarded at the annual Awards Ceremony in the spring and at Commencement.
Students who wish to earn a Silver Cord Award must complete and verify the required hours by their graduation. Students can start counting volunteer hours the day after their last day of 8th grade. If students transfer to Decorah High School during their high school career, they will be required to complete 50 hours per year starting with the year they transfer.
Students are encouraged to volunteer 50 hours per year. However, they can accumulate the hours at any point to achieve 200 hours by the first Monday of May of their senior year. If more than 50 hours are accumulated in one year, extra hours will be carried over to the next year. The Silver Cord committee will review hours submitted.
DUE TO COVID, THE REQUIRED HOURS HAVE BEEN ADJUSTED AS FOLLOWS:
Class of 2023: 150 hours
Class of 2024: 175 hours
Class of 2025: 200 hours
Class of 2026: 200 hours
The DHS Silver Cord program was established to encourage high school students to help others in their community. Therefore, only work performed for those other than a parent or guardian will qualify.
Volunteer hours cannot be paid hours or court-ordered community service hours.
Volunteer work that results in a financial benefit to the individual or the group will not count. However, hours will count if the group performs a service project beyond those responsibilities with no pay going to themselves or the organization (for instance, a yard clean-up day).
A list of pre-approved volunteer opportunities and all of the forms required can be found below. Students may ask for approval of opportunities not on the list through the Silver Cord Coordinator.
Community members wishing to promote their volunteer opportunities should email Mrs. Fox at liz.fox@decorah.k12.ia.us with the information about the event.  She will then post the information on the DHS Silver Cord Facebook and Twitter pages.
For the most current volunteer opportunities, please check Facebook and Twitter often!  
LIZ FOX, liz.fox@decorah.k12.ia.us
Silver Cord Coordinator
(563)382-3643 ext. 1223