DHS Alum Returns to Teach Lessons to Orchestra Students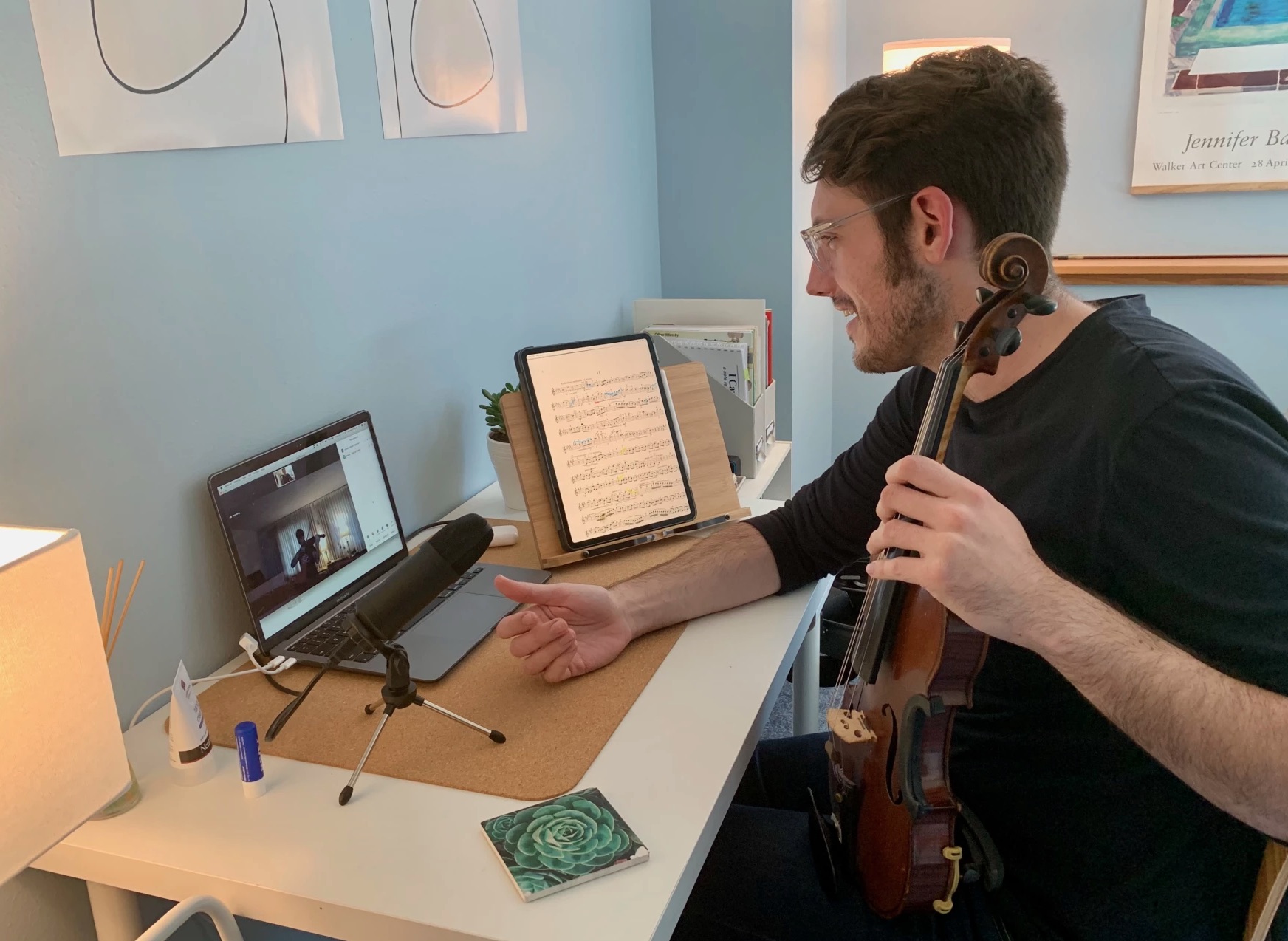 News
April 1, 2021
The Decorah Community School District's orchestra program benefited immensely when Jonathon Winter, conservatory post-graduate violinist, educator, and DHS alum, moved back to Decorah due to the pandemic. Winter shared, "My work at the University of Miami went completely remote, my program at the Lynn Conservatory went remote, and the orchestras in the South Florida area stopped having concerts. It didn't make much sense for me to continue living in Miami while all of my work was online. Since I knew I was going to be in Decorah for an extended period of time, I reached out to Nicole Cody to let her know I wanted to be useful while I was here. She proposed the lesson teaching position at DMS and DHS, and I knew it would be a really excellent experience in an otherwise bizarre year."
In reflecting on his move back to Decorah, Winter shared this: "On the macro level, reconnecting with the community has been the most rewarding part of this past year. I haven't spent much time here since I graduated in 2012, and it has been incredible to see how this community has grown since I left. In terms of my time in the school, getting to know all of these awesome orchestra students has been an experience like no other. There is something truly special about these young people that has reminded me why I find teaching so fulfilling."
Both Jennifer Larson and Nicole Cody, orchestra instructors for the district, expressed their deep appreciation for the contributions Winter has made to their programs. Larson noted, "Jonathon provides lessons to orchestra students at Decorah Middle School during the times when I am teaching orchestra classes. His instruction is all done online. The students come to their lessons with their computers and connect with Mr. Winter and away they go. He brings excitement to the orchestra students he works with at Decorah Middle School. The students enjoy his upbeat personality and love of music. Jonathon is not only a gifted musician and teacher, he is also fluent in German. Students in the Decorah Middle School orchestra were learning to play a piece that had text written in German, and he taught all of us how to pronounce the words and to sing them with understanding."
Winter has been a positive influence on Larson personally as well. She remarked, "Prior to this school year, I had never taught a lesson over Zoom. Jonathon provided some tips and encouragement, and now teaching lessons online is something I do every week."
Nicole Cody, Decorah High School's orchestra instructor, stated similar feelings of gratitude. "We have been so lucky to have Jonathon with us for this school year. He is passionate about teaching and is an accomplished musician with a lot to offer. The students have really responded to his teaching style and his personality, and we are all thankful we got to work together this year. I am extremely proud that he is a graduate of this program!"
High school principal Kim Sheppard remarked, "I was so pleased to know that Jonathon was able to work with our students, as the knowledge and expertise he brings to the orchestra program have helped our students grow and learn in ways we didn't believe possible. The energy and excitement he brings to each student's lesson is contagious. While we will miss him when he moves on, we know we have been fortunate to have him join us for the school year."
Winter will be presenting a concert on Sunday, April 11 at 2:00 pm in the DHS auditorium. He noted, "I'm really excited to finally perform in public again after 13 months of radio silence! I'll be performing works by Debussy, Brahms, Kreisler, Bach, and Kevin Puts. Additionally, I will be joined by Luther College professor Xiao Hu on piano. It's an honor to share the stage with a fellow community member." There will be limited, socially distanced tickets available through Eventbrite. Community members wishing to attend this concert can use this link to reserve tickets: https://www.eventbrite.com/e/jonathon-winter-in-recital-tickets-145762873679. The concert will also be live streamed and can be accessed on Winter's YouTube channel: https://www.youtube.com/channel/UCk9D6CJbGwx65aFVzdx86Iw.
Looking to the future, Winter plans to play with the National Repertory Orchestra in Breckenridge, Colorado, this summer. It's an annual festival composed of the country's finest emerging musicians. He auditioned for this position back in January of 2020, and the musicians are finally able to gather as an orchestra in June and July.
Winter will also be starting his Doctorate of Musical Arts in the fall. He is seriously considering an offer from Florida State University, where he would be a Graduate Teaching Assistant for the duration of the degree.
For the time being, however, Winter will continue sharing his love of music with the Decorah community. He shared, "I want to extend my gratitude to Nicole Cody and Jennifer Larson for being phenomenal colleagues this past year. I also want to thank the principals of DHS and DMS–Mrs. Sheppard, Mr. Riley, and Mr. Albers–for allowing me to join the orchestra team, and I want to thank Jackie Reckward for helping me with the organization details of the upcoming recital. Finally, I want to thank the students and community for welcoming me back with open arms. Every time I return to Decorah, I am reminded how special this place is."