DHS Large Group Speech Students Take Home Two Banners at the All-State Festival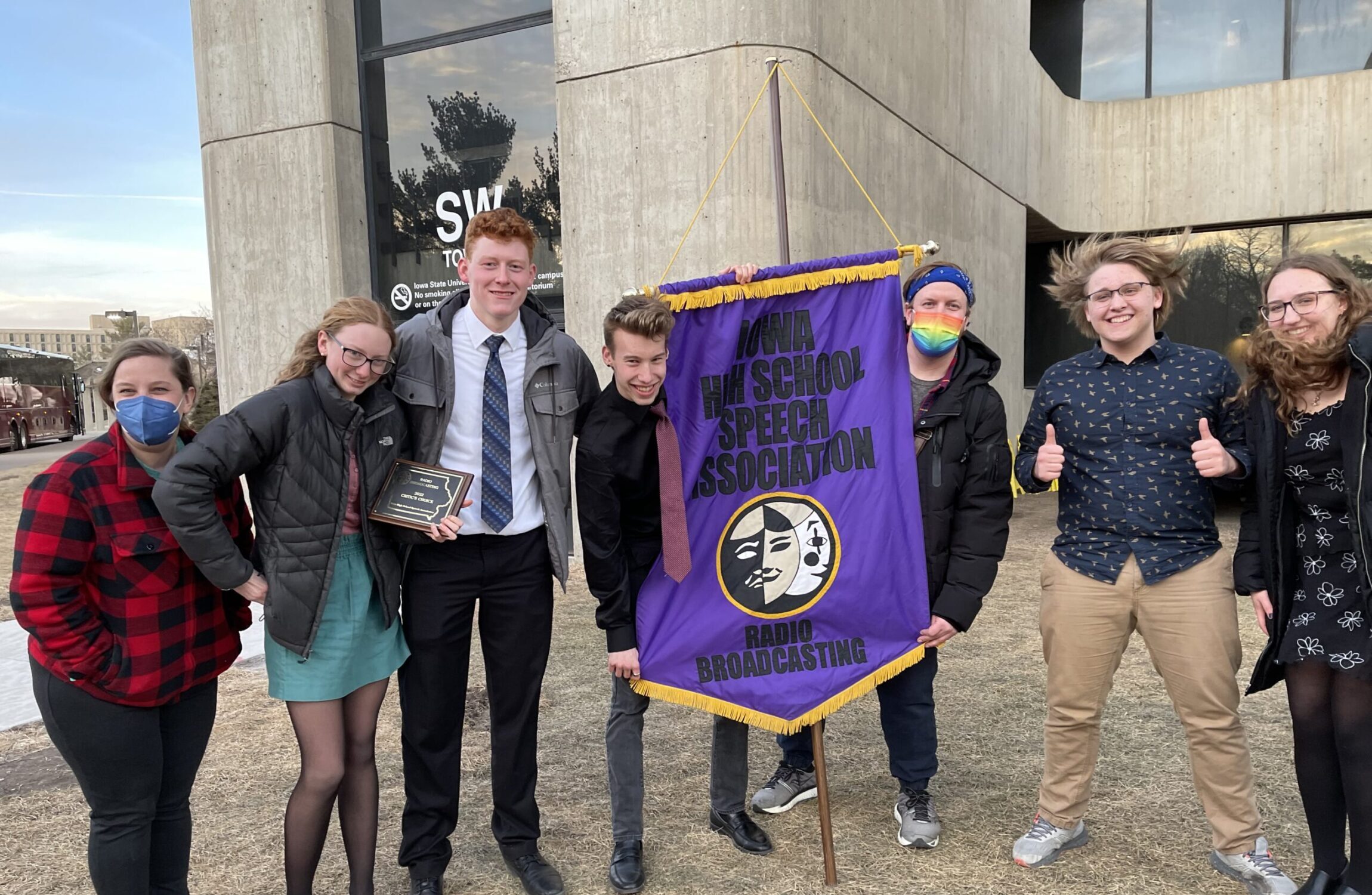 News
Two Decorah High School groups were selected as banner recipients at this year's All-State Speech Festival held in Ames over the weekend: a radio broadcasting entitled "KCTS" and a television news broadcast entitled "Iowa Adventures: Haunted Road Trip."
Approximately 70 Decorah High School students made the trip to Ames over the weekend to perform at the festival at the Iowa State Center on the ISU campus. Eight events were nominated as outstanding performances and joined other elite speech students from across the state to share their performances with a professional critic.
Each critic selects one performance at the end of the day and awards a banner to that entry, signifying them as "best of center" in that category. The banner winner, in the eyes of the critic, represents a "state championship" quality performance that stands out above the rest.
Cast members of the Radio Broadcasting "KCTS," directed by Gabriel Twedt and Carrie Kauffman, include Drew Berns, Morgan Dhly, Nat Roberts, Sylvia Sandhorst, and August Witt.
The radio broadcasting follows the Johnson family on their trip to the deserts of the American Southwest. However, the cactus-ridden landscape proves to be a little too much for the Minnesotan family. The critic praised "KCTS" for its originality, polished technical aspects, and engaging storyline. The critic explained that once they heard the radio broadcast, "There was no other choice for the critic's choice."
Cast members of Television News "Iowa Adventures: Haunted Road Trip," directed by Molly Holkesvik and Gabriel Twedt, include Annaleissa Arnold, Caden Branum, Bella Bishop, Sophia Christman, Chloe Chyle, Braunwyn Darrington, Simon Kutz, Paige Lange, Easton Luzum, Kailyn O'Gara, Thea Schissel, Brynn Storhoff, and Paige Werner.
The critic praised the "Iowa Adventures: Haunted Road Trip" cast for their professionalism, attention to detail, and captivating writing. The travel style broadcast focuses on the hauntings and tourism opportunities found in the Iowa towns of Van Meter and Villisca. The critic was blown away by the level of quality of this production, as well as the production of the 9th grade televisions news that also performed at All-State.
"Although the All-State nominations and subsequent banner wins are amazing, the true mark of our success lies in the joy in our students' faces and hearts as they performed at all levels throughout this season," large group speech directors Molly Holkesvik, Gabriel Twedt, Carrie Kauffman, Rachel Breitenbach-Dirks, and Lyra McKnight remarked, at the conclusion of the weekend's events. "A big thank you to all involved in the fire truck parade, the ringing of the victory bell, and for packing the house at all our performances throughout the season. Saturday night was a true celebration of our entire speech team."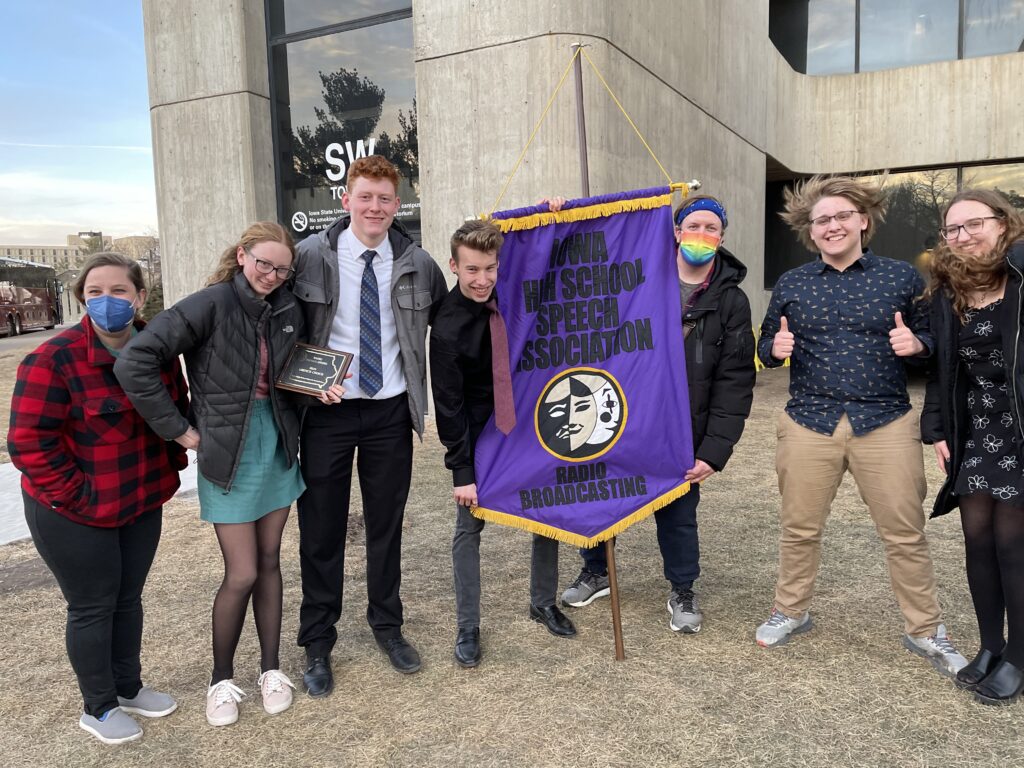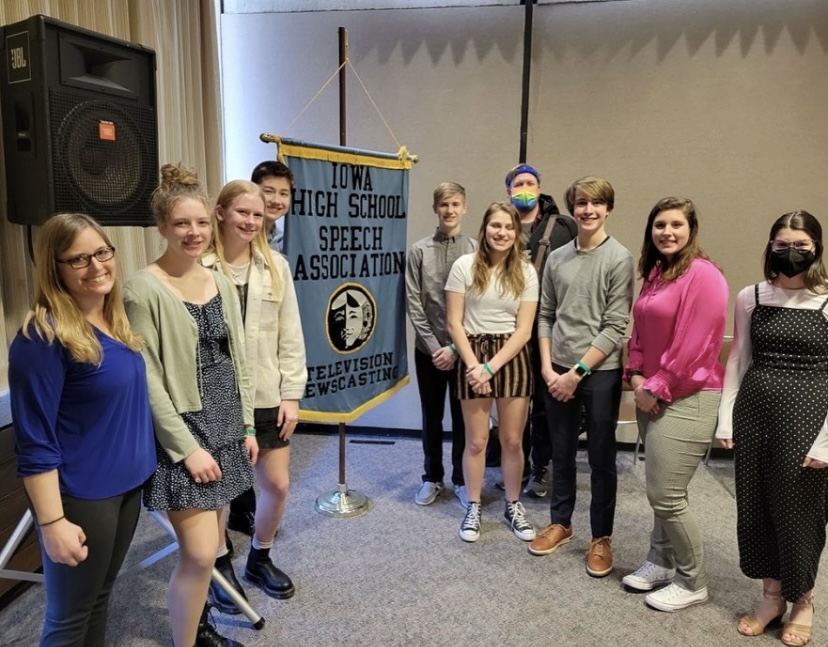 .