SpongeBob makes a splash at Decorah High School Nov. 9-11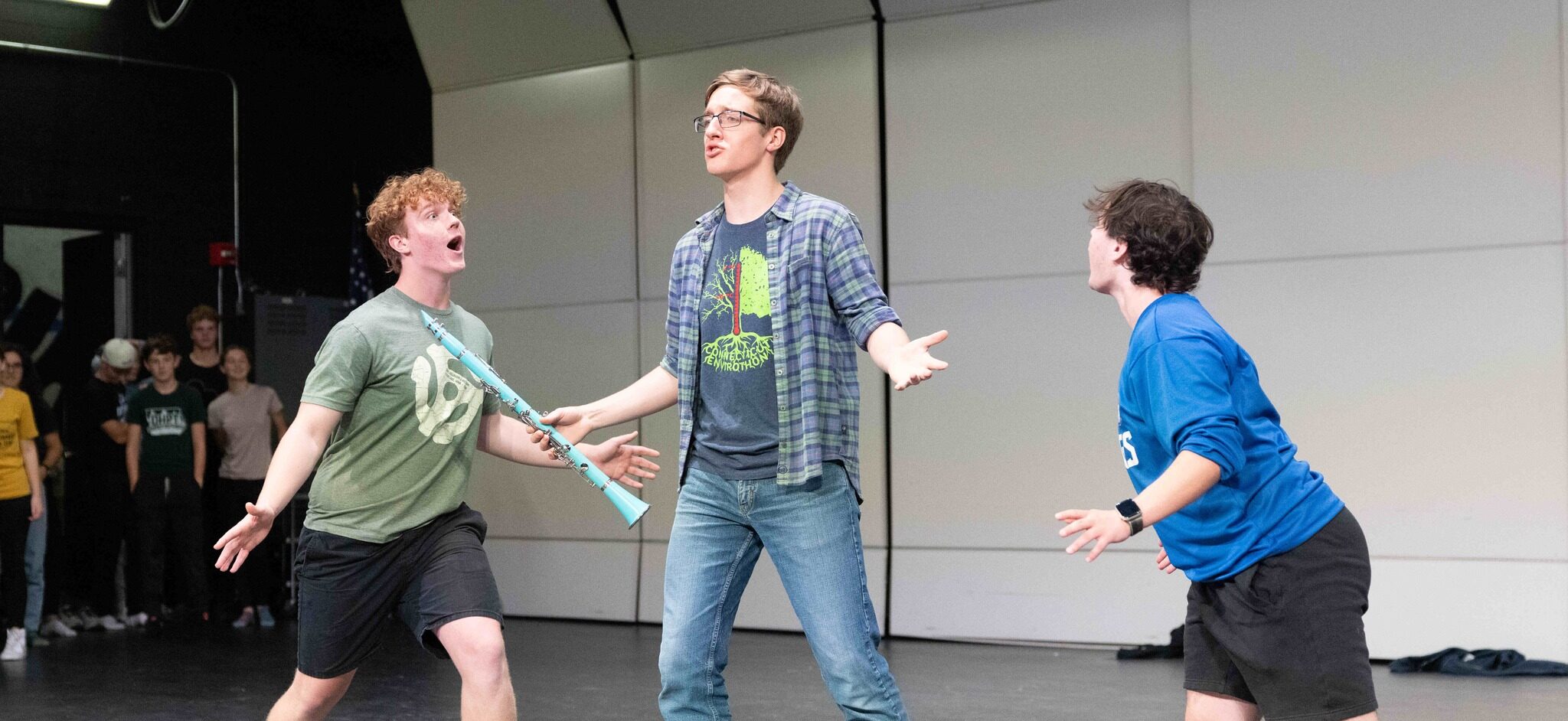 News
The Decorah High School Drama program is proud to present "The SpongeBob Musical" Thursday and Friday, Nov. 9-10 at 7:30 p.m. and Saturday, Nov. 11 at 1:30 p.m. and 7:30 p.m. in the DHS auditorium.

Audiences will enjoy the plunge into this exciting all-singing, all-dancing, dynamic stage show, featuring familiar characters from the Nickelodeon animated series. When the citizens of Bikini Bottom discover that a volcano will soon erupt and destroy their humble home, SpongeBob and his friends must come together to save the fate of their undersea world. With lives hanging in the balance and all hope lost, a most unexpected hero rises up. The power of optimism really can save the world!
"The SpongeBob Musical" features original songs by Yolanda Adams, Steven Tyler and Joe Perry of Aerosmith, Sara Bareilles, Jonathan Coulton, Alexander Ebert of Edward Sharpe and The Magnetic Zeros, The Flaming Lips, Lady A, Cyndi Lauper, John Legend, Panic! At the Disco, Plain White T's, They Might Be Giants, and T.I. as well as songs by David Bowie, Tom Kenny, and Andy Paley.
NHS present Lunch with the Cast Nov. 11  – Sales have closed for this event
Decorah's chapter of the National Honor Society is hosting a pre-matinee lunch on Saturday, November 11. The Decorah High School cafeteria will be transformed into the Krusty Krab, SpongeBob's place of employment in Bikini Bottom. The menu for lunch is a choice of hot dog or hamburger with curly fries, pineapple garnish, and milk. Guests will be able to meet and take pictures with characters from the show during the event.
Tickets
Tickets to the show are $10 for adults and $5 for students. Cost of the pre-matinee meal is $5 per person, and tickets for the meal must be purchased by Monday, November 6. 
Tickets to the show and to the pre-matinee lunch will be available online through Ludus beginning Saturday, October 28 using this link: https://decorahschools.ludus.com/index.php.
Through the generosity of the Decorah Music Boosters, one adult ticket and children's tickets are available for families who would like to attend the matinee but do not have the resources to purchase tickets. Please contact Shanna Putnam-Dibble at shanna.putnamdibble@decorah.school for assistance in obtaining tickets for the show and/or pre-show lunch.
Production staff, cast, and crew
The production staff includes Jason Rausch, music director/conductor; Karen Trewin, producer/co-director; Kristen Underwood, stage director/costume designer; Chris Hadley, technical director; Karmyn Bakken, stage manager; and Jackie Reckward, box office manager. Principal choreographer is Decorah High School senior Jensen Korsness, with additional choreography by Laurie Walter of Crave Dance Studio. Set design is by Matt Spencer of Singing Hammers Construction.
Cast members include Libby Phillips as SpongeBob, Oliver Brummel as Patrick Star, June Breitenbach-Dirks as Sandy Cheeks, Gabriel Hiner as Squidward Q. Tentacles, Liam Chamberlain as Eugene H. Krabs, Ezra Vorvick as Sheldon J. Plankton, Jensen Korsness as Karen the Computer, Vivian Searcy as Pearl Krabs, Joseph Stammeyer as Perch Perkins, Annaleissa Arnold as the Mayor, Elsa Johnson as the Foley Artist Fish (sound effects), Gwenyth Thompson as Mrs. Puff, Jameson LaBelle as Larry the Lobster, Caleb Johnson as Old Man Jenkins, Davis Coppola as Patchy the Pirate, Andy Kruger as Buster Bluetang, and Nathaniel Roberts as the French Narrator. Playing multiple roles as Bikini Bottom residents and other characters are Grace Blikre, Spencer Christensen, Davis Coppola, Mikayla Hiner, Greta Jones, Andy Kruger, Kamryn Steines, and Hayley Stowe.
Ensemble members are Ariana Albert, Elliana Brodbeck, Elsa Christman, Emma Cline, Esteban Fernandez, Natalie Goodner, Bethany Hanson, Lucas Hanson, Ezra Harman-Wood, Ella Jacobsen, Kaelyn Kuhn, Nora Lesmeister, Teagan Menke, Beau Newhouse, Clarence Nimrod, Noah Potvin, Elizabeth Pritchard, Olivia Rissman, Chloe Sheffield, Gavy Smith, Grace Stockman, Brynn Storhoff, Robin Suhr, Colin Thompson, Abbie Valkosky, Jillian Volz, and Kaylie Wemark.
Technical crews working on lights, sound, and backstage are Hanna Arendt, Elizabeth Bjork, Cody Carolan, Kathleen Delphey, Evynne Downing, Patrick Gallagher, Ava Hanson, Kealy Hines, Camryn Holland, Jayden Lundtvedt, Amelia Pankow, Olivia Paulsen, Nathan Rhodes, McKenzie Riley, Lily Sandhorst, and Kera Walter.
Creating the undersea melodies, harmonies, and rhythms are orchestra members Luke Arendt, Caden Branum, Thatcher Brown, Brian Brummel, Aitor Cuevas, Mikael Havens, Jay Hawthorne, Loren Hendrickson, Ansel Kowitz, Evan Madsen, Alex McGohan, Alex Mercado-Arneson, Aidan Nalean-Carlson, Brenna Parker, Susan Potvin, Spencer Rix, Nina Sessions, Julia Severtson, Lauren Severtson, Steve Smith, and Grant Zilka.
"The SpongeBob Musical" is produced with generous support from the Decorah Music Boosters.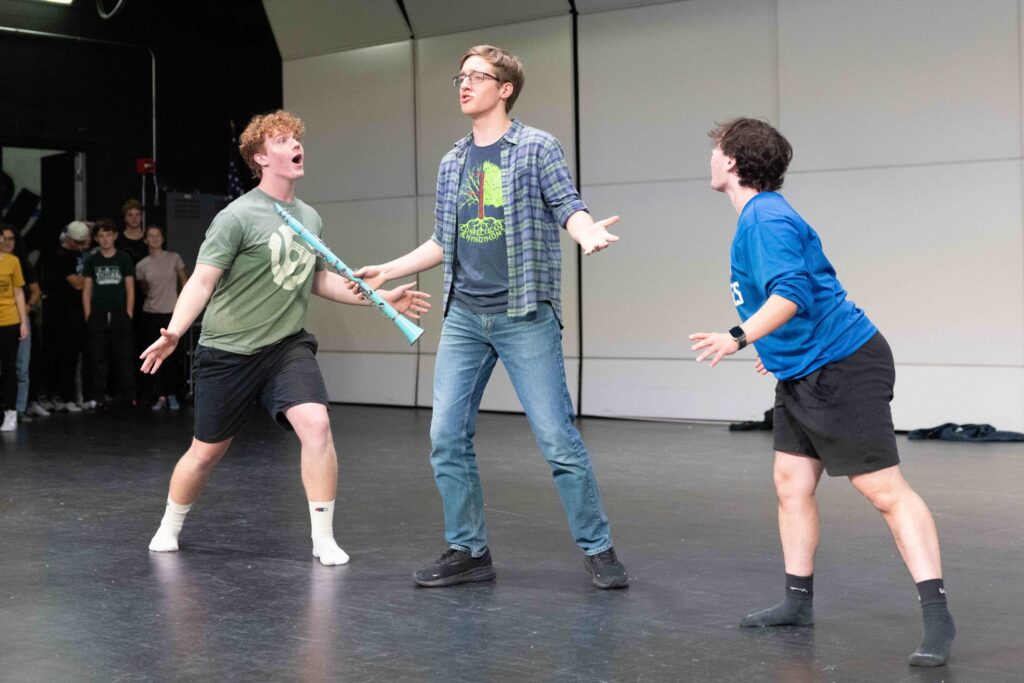 (l-r): Oliver Brummel, Gabriel Hiner, Libby Phillips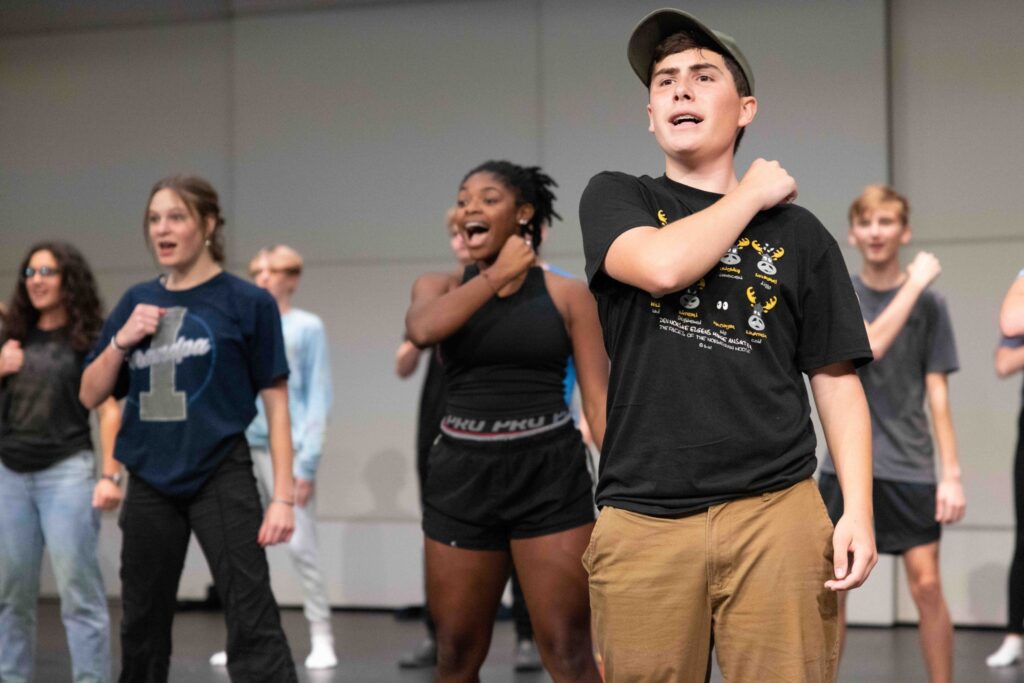 (l-r): Front row: Noah Potvin; Middle row: Greta Jones, Hayley Stowe; Back row: Nora Lesmeister, Clarence Nimrod, Andy Kruger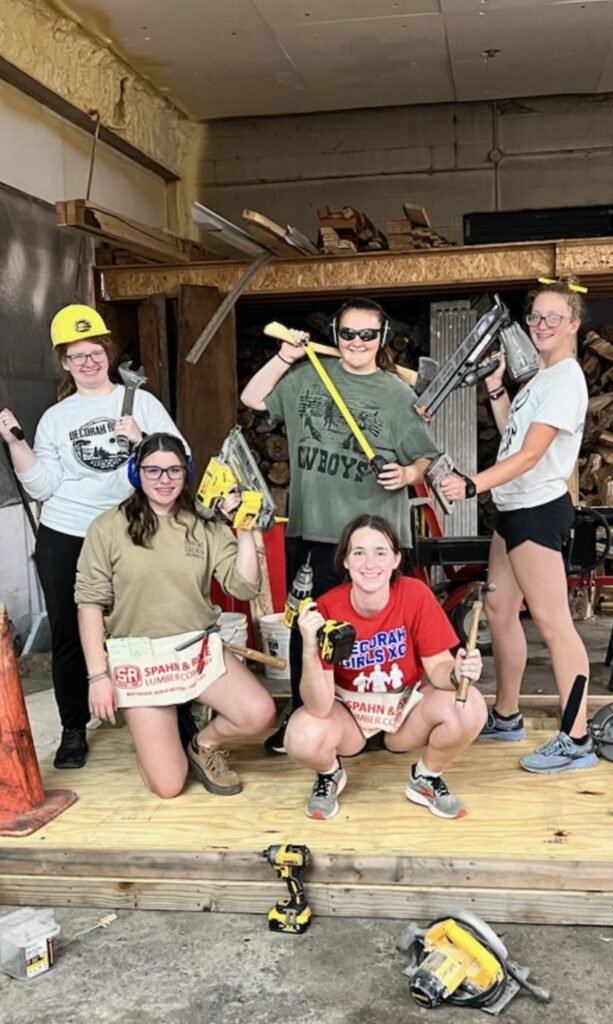 (l-r): Front row: Evynne Downing, Kealy Hines; Back row: Karmyn Bakken, Camyrn Holland, Lily Sandhorst