Decorah FFA Excels at Districts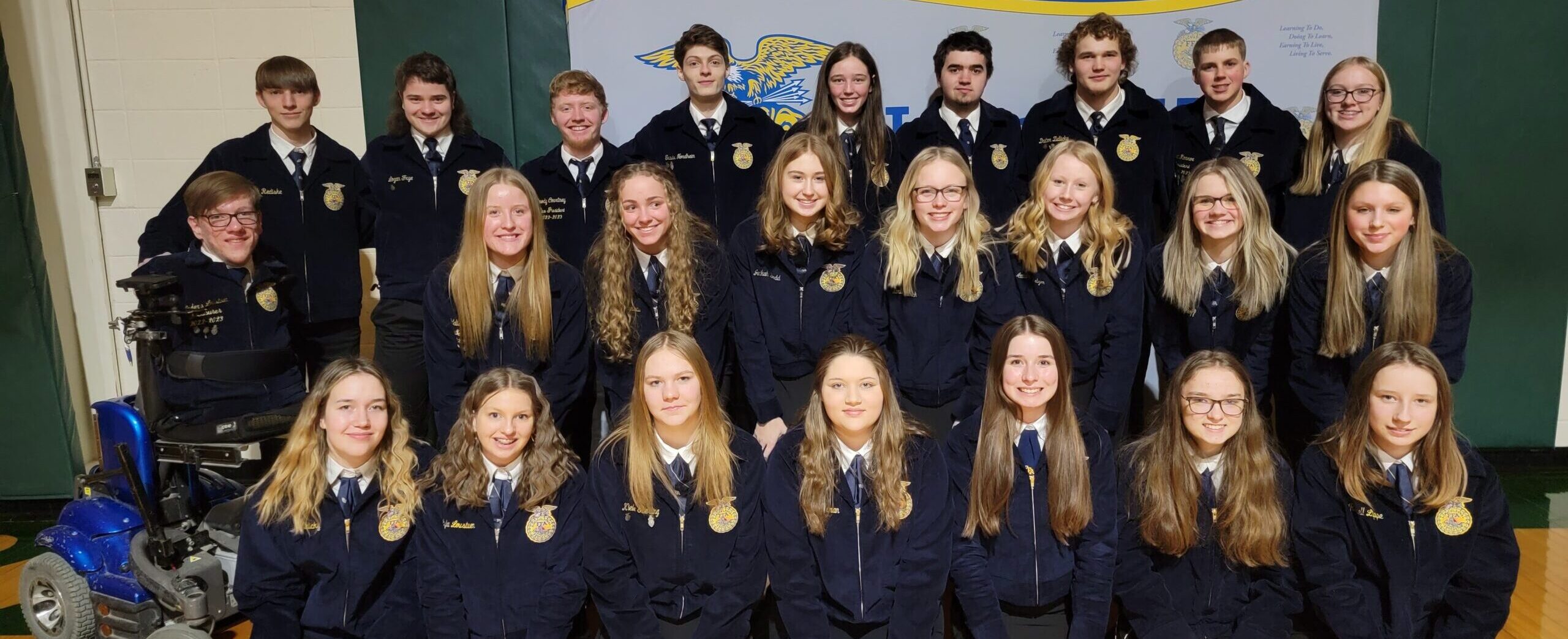 News
By: Morgan Moen, Decorah FFA Reporter
Twenty-four Decorah FFA members participated in the District FFA Convention on Saturday, March 11th at Beckman Catholic High School. The chapter competed in eight leadership development events and three quiz contests. Two members also served as chapter delegates, and two members were balloted for Northeast District FFA office.
The four contests advancing to the state competition in Ames include the Treasurer's Book: Anders Lovstuen – 1st place, gold rating; Ag Sales: Annika Brynsaas – 2nd place, gold rating; Job Interview: Jeramiah Rediske – 2nd place, gold rating; and Secretary's Book: Addison Wemark – 2nd place, gold rating.
The chapter also competed in the following leadership development events: Chapter Website: Travis Nordheim – silver rating; Conduct of Meetings: Lyla Lovstuen, Rylee Averhoff, Karlie Einck, Thea Zidlicky, Jerikah Dodd, Annika Schmelzer, and Raleigh Lensing – silver rating; Public Speaking: Kayleigh Smith – silver rating; and Reporter's Book: Morgan Moen – participation.
Ten members participated in the three quiz contests. Three participated in the Greenhand Quiz, which is an FFA knowledge exam. Kamryn Werges earned 1st place with a gold rating, Eden Scheidel placed 5th with a gold rating, and Karlee Bullerman received a silver rating. Three members also participated in the chapter quiz, an FFA and parliamentary procedure knowledge exam. Logan Frye placed 7th with a gold rating, and Kiele Eberling and Rashell Lippe received silver ratings. Four members participated in the Farm Business Management Test. The team of Morgan Moen, Justin Nierling, Addison Wemark, and Dalton Zidlicky placed 4th overall. Morgan Moen placed 9th individually.
Brody Courtney and Addison Wemark served as the Decorah FFA's official district delegates and attended the Northeast District Business Session.
District Officer Election Results
Three Decorah FFA members ran for Northeast District FFA office. In February, Anders Lovstuen, Creed Monroe, and Travis Nordheim completed several rounds of interviews during which they took an FFA knowledge test. After the first round of selection, Creed Monroe was put on the ballot for Northeast District Secretary, and Anders Lovstuen was put on the ballot for NW Sub-District Vice President. At District Convention, both Creed and Anders gave a two-minute speech to delegates and answered two rounds of questions.
Creed Monroe was elected to serve as the 2023-2024 Northeast District FFA Secretary. He was officially installed at the conclusion of the District FFA Convention.
The Decorah FFA will now compete at the State FFA Leadership Conference on April 16-18, 2023 at Iowa State University in Ames.