DHS students are beneficiaries of Gemini's generosity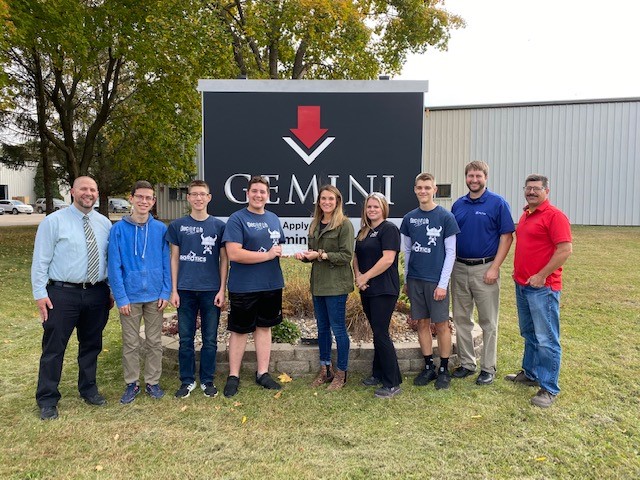 News
Students from Decorah High School recently toured Gemini in Freeport and came away with a deeper understanding of the manufacturing process as well as a generous donation of $10,000 for the school's robotics team.
Lindsey Moellers, Senior Human Resources Manager, has been a member of the Decorah High School CTE (Career and Technical Education) Committee for quite some time, and Gemini has partnered with the high school to provide students with both work study and internship opportunities. Over the past few years, they have also provided some financial support for STEM-related equipment and the robotics program. The company gives 2% of their profits to local nonprofit organizations as part of their stewardship core value.
Moellers stated, "Gemini believes in stewardship and supporting the communities we serve in areas of education and training in manufacturing. Our partnership with the Decorah High School not only helps us build a network of future talent but also gives our Gemini team members an opportunity to develop their mentorship skills and engage with our community. We enjoy interacting with the students on the robotics team and are excited to see what projects they have planned for the upcoming year!"
Brett Wilker, math instructor and robotics team coach shared, "The students who went on the tour are all interested in pursuing some type of engineering field after high school. Gemini's tour provided them with a view of what an engineer does in real life and how they tackle problems on the job. Through these types of visits and Gemini's financial support, Decorah High School has been able to provide students with more first-hand experience in engineering and advanced manufacturing and to inspire them to seek careers in the growing STEM career field."
"We cannot begin to thank Gemini enough for their ongoing and generous financial support of Decorah High School and our CTE programs and robotics team," remarked Brad Hurst, DHS principal.
Gemini is a wholesale manufacturer of solutions that identify, direct, and protect the world. For over 55 years, Gemini has been an industry leader producing made-to-order dimensional signage, plates, plaques, cast bronze memorials, industrial protective cases, and plastic parts. Gemini is a second-generation family-owned business headquartered in Cannon Falls, Minnesota, with production facilities throughout North America. For more information, visit https://geminimade.com/signage/.