DMS and DHS students earn spots in Opus Honor Choir Festival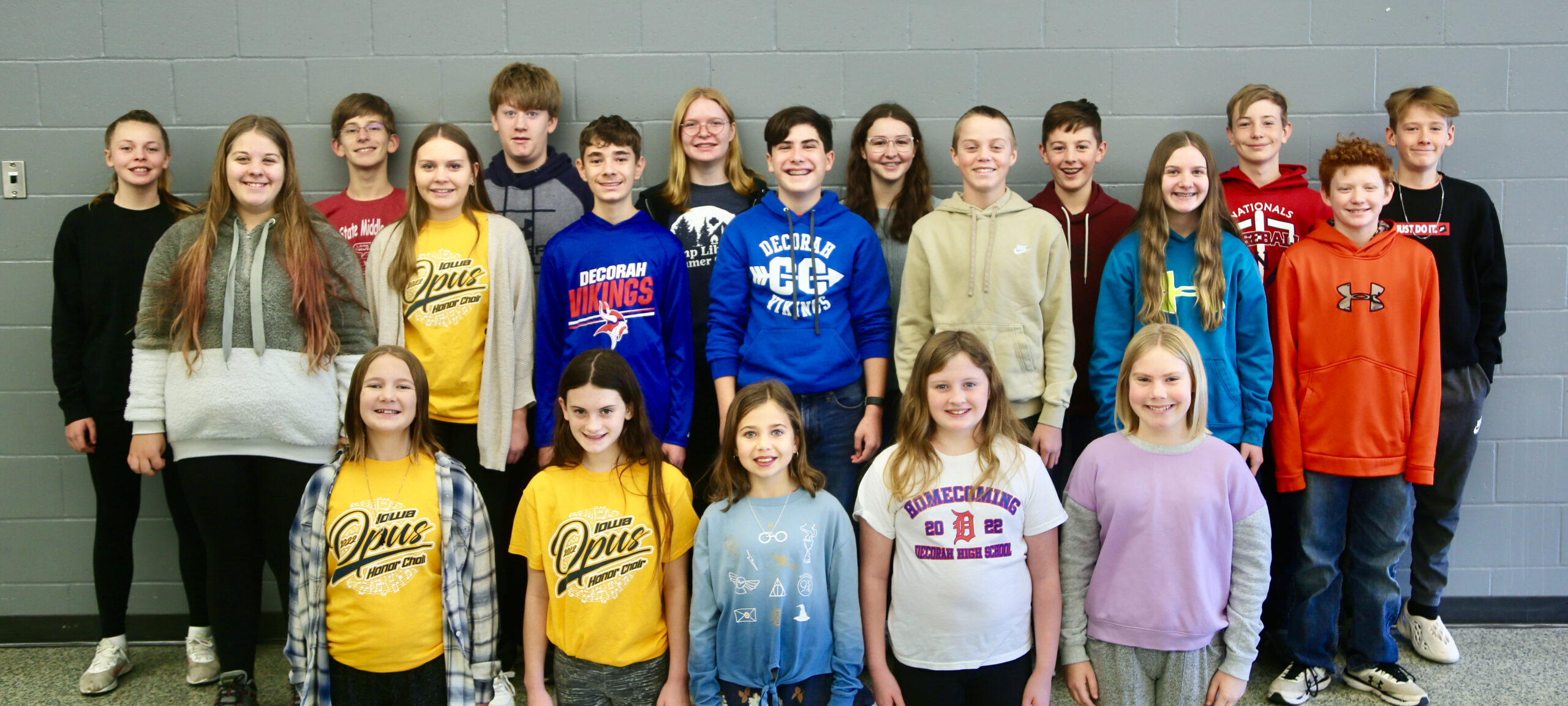 News
Twenty-eight students from Decorah were recently selected for participation in the 36th annual Opus Honor Choir Festival. Over 2,100 students were nominated by their directors for 720 positions in the four Opus Honor Choirs. Selections were made by means of a recorded audition.
This is the sixteenth year that Decorah has had students audition for the Opus Honor Choirs. During the past 16 years more than 365 Decorah students have been accepted through recordings submitted by Dean Beckman, Jason Rausch, and community youth choir directors. This year, twenty students were selected from Decorah Middle School by recordings submitted by Dean Beckman, the second highest number of students accepted into the honor choirs by one teacher in the state of Iowa in 2022. Eight students were selected by recordings submitted by Jason Rausch at the Decorah High School. Opus Honor Choirs performed on November 17th in C.Y. Stephens Auditorium in the Iowa State Center in Ames.
The following students were accepted in the Open Honor Choir:
5th Grade: Kaya Olson and Abby Shaw
6th Grade: Hanna Lensch, Ayla Low, and Marley Phillips
7th Grade: Kennedy Carlson, Kylie Cord, Cooper Ewing, Derek Hrdlicka, and Kaya Johnson
8th Grade: Elliot Berland, Spencer Christensen, Sawyer Courtney, Jayden Lundtvedt, Clarence Nimrod, Noah Potvin, Olivia Rissman, Daric Sheffield, Grace Stockman, and Colin Thompson
9th Grade: June Breitenbach-Dirks, Elsa Christman, Will Duder,
Ezra Harman-Wood, Mikayla Hiner, Klara Kelly, Caden Malanaphy, and Naomi Pedlar
In addition, two students were selected as solo finalists to audition for the final concert: Cooper Ewing in grade 7 and Colin Thompson in grade 8.
Guest conductors of the choirs include Christina Svec, Iowa State University, 5th & 6th Grade Honor Choir; Nick Oswald, Southview Middle School, 7th & 8th Grade Bass Clef Honor Choir; Amy Kotsonis, University of New Hampshire, 7th & 8th Grade Treble Clef Honor Choir; and Andrew Last, Luther College, 9th Grade Mixed Honor Choir. The Opus Honor Choir Festival is made possible by the Iowa Choral Directors Association, Inc.