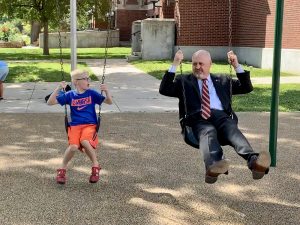 Welcome to Decorah Community School District.  My name is Mark Lane, and it is an honor and privilege to serve you as Superintendent of Schools. I joined Decorah Community Schools at the beginning of the 2019-2020 school year. During my 25 years working in public education I have been an elementary classroom teacher, a school counselor, an elementary principal, and a central office administrator. My mother and father were both Iowa educators. I am proud to continue a family tradition of serving students.
My wife, Carla, and I love Decorah, Winneshiek County, and the Driftless Area. We enjoy spending time with our family kayaking, biking, and hiking. Our son, Calhoun (11) is a sixth grader at Decorah Middle School. Our other son, William (20) attends Iowa State University studying Graphic Design.  Our daughter, Savannah (23) lives in Iowa City. We have two dogs, Ferris and Avett, who enjoy the Decorah Dog Park and walks on area trails.
I love working with Decorah CSD students, staff, families, and community members to ensure our school system serves each and every student.  Please don't hesitate to reach out with questions or comments.
Office Phone: (563) 382-4208
Cell Phone: (563) 380-5847